Teaching a child how to read is such a rewarding experience! However, it can also be a challenging and a bit overwhelming. That's why I've worked so hard to make the Ready2Read curriculum, a program that gives you simple day-by-day instruction to teach reading in fun and effective ways. More specifically, it's packed with plenty of engaging activities that introduce, offer practice and build fluency of reading sight words and phonics skills together. In short, all of the research and work has been done for you! Just print, prep, and teach! No matter if you're teaching at home or in the classroom, this curriculum will work for you!
Simple Lesson Plans
I've taken all of the guess work out of teaching how to read by including easy-to-follow daily lesson plans. These lesson plans outline step-by-step how to introduce the activities and implement practice. Each unit in Level 1 introduces 5 sight words and 2 CVC (consonant, vowel, consonant) word families. Unit 1 covers the sight words I, see, the, and, and a, while also covering the phonics skills of -at and -an CVC word families. More challenging phonics skills are introduced and taught in later levels.
Let's take a look at Unit 1 in action:
Sight Word Centers
Sight words are an important step for reading. These words must be learned by memorization, and not by phonetically sounding them out. More specifically, these are high-frequency words that may contain a phonics concept that a child is not quite ready to understand until other phonics rules have been mastered first.
Each unit teaches 5 new sight words. A new sight word is introduced each day for the first five days. Then all 5 sight words are reviewed over the following 5 days.
The Sight Word Song is a fun way to introduce the new sight words that are taught in the unit. It's sung to the tune of BINGO.
As sight words are introduced, they can be added to the Sight Word Caterpillar. This makes a fun decoration for a classroom wall, and students can visit the Sight Word Caterpillar to practice tracing the sight words.
Games are such an easy way to get students interested in practicing their new skills. The Sight Word 5-in-a-Row lets students have some fun while learning! Two players take turns reading and covering a sight word. The first person to get 5 in a row wins!
I suggest setting up an additional center where students can practice spelling and writing the sight words in a hands-on way. Below are a few ideas you might like to try.
Sight Word Practice Pages
In addition to the centers, I've added practice pages to reinforce the words they have learned. You can use these as small group or one-on-one activities, or send home as homework.
Word Family Centers
Each unit in Level 1 introduces two CVC (consonant, vowel, consonant) word families. Unit 1 teaches the -at and -an word families.
As students learn new word families, you can grow a garden on a word wall in the classroom. This is a fun way to have a reminder for students to re-visit word families they've learned. Furthermore, it can encourage them to learn new word families to help their garden grow.
The Word Family houses offer a visual representation for words that end the same way.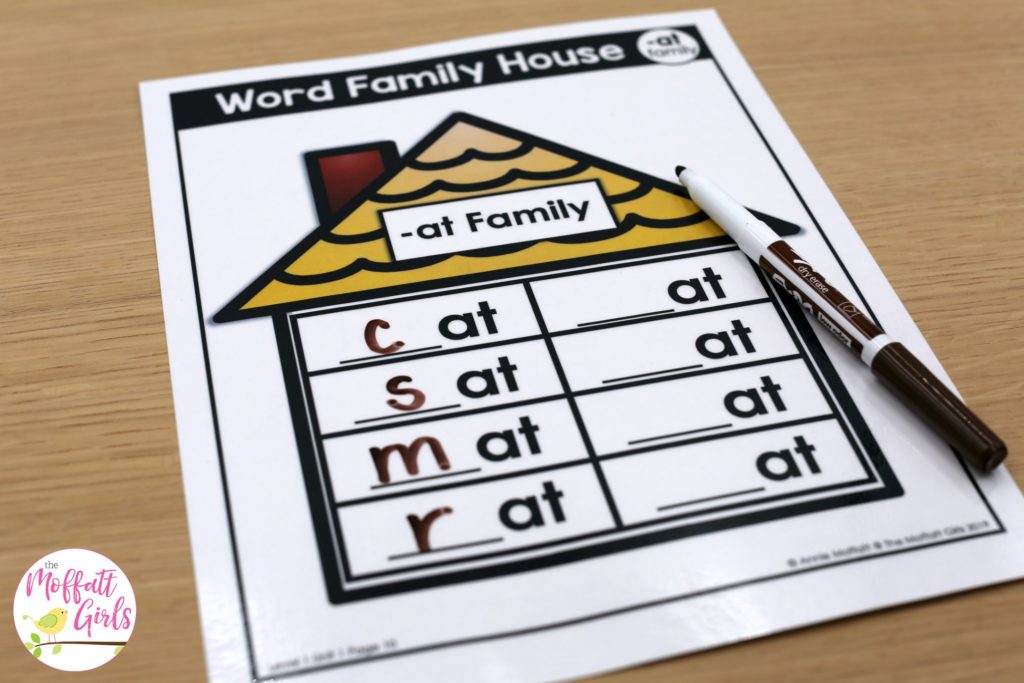 These word family sliders help students understand that a new word can be made when the first letter in the word is changed.
You can add letter magnets as an extension to the word sliders.
Spin, Read and Cover is a simple, but fun and effective game as students spin a spinner and find the correct word.
Missing Letter activities encourage students to segment the sound of the words to identify which letters are missing from the word.
The Flip and Cover games are a fun way to practice reading and matching words.
5-in-a-Row is a game where you take turns reading and covering a word. The first person to get 5 in a row wins the game!
These CVC sound cards can be used in a few different ways. For example, use them without letters to practice segmenting and blending the word to build phonemic awareness. Another way to use them is to offer only the letters needed to build a word to help them practice letter order. A more advanced option is to allow the student to find or write the letters to build the word on their own.
Roll, Read and Cover is a fun game where you roll a die and cover a picture that matches the word.
CVC Word Family Practice Pages
In addition to the fun centers, I've included practice pages to help reinforce the phonics word family skills.
CVC Make a Match- these activities focus on one word family at a time.
Mixed Review
Now it's time to combine the concepts that the students have learned in the unit thus far. Some of the activities review both CVC word families, while some of them also include reading the CVC words along with the sight words to offer a genuine reading experience.
Each unit comes with word family sorts. This is a fun and effective way to master reading word families with different endings.
Word family CVC puzzles help to build the beginning, medial and ending sounds. One of the biggest struggles that beginning readers encounter is ending sounds. Often times they will see and sound out a word like cat, but will read can instead. This is extremely common, which is why Level 1 only focuses on the short vowel CVC words. We want to build mastery. We want to build confidence. We want to set the stage for more complex phonics.
Match the word to the picture. Just another fun way to make sure that our beginning readers are reading words and not just guessing.
Color by Word Family- kids love to color and this allows them to master reading their new word families in a fun way. If you find that a child doesn't like to color, then give them water color paints, dry tempera paint sticks, or some other medium! Often times kids "don't like" coloring simply because they lack the dexterity to color for long periods of time. In that case, I would strongly recommend focusing on some fine motor skills.
Circle the Word gives students the chance to identify the correct word where the beginning sound is different.
Beginning readers are a FAVORITE! At the end of the unit, kids get to show off their new reading skills by reading their books! Trust me, this boost of confidence is HUGE! They will probably carry their new readers around everywhere they go and read them to anyone who will listen!
Keep reading to see more Ready2Read Level 1 Units in action!