Teaching a child how to read is such a rewarding experience! However, it can also be a challenging and a bit overwhelming, especially when introducing new phonics concepts, such as teaching CVCe words. That's why I've worked so hard to make the Ready2Read curriculum, a program that gives you simple day-by-day instruction to teach reading in fun and effective ways. More specifically, it's packed with plenty of engaging activities that introduce, offer practice and build fluency of reading sight words and phonics skills together. In short, all of the research and work has been done for you! Just print, prep, and teach! No matter if you're teaching at home or in the classroom, this curriculum will work for you!
Once your child has mastered reading CVC words and a good amount of sight words, they are ready for Level 2 of the Ready2Read program.
Simple Lesson Plans:
Ready2Read includes lesson plans that are clearly outlined and easy to follow. These lesson plans explain step-by-step how to introduce the activities and implement practice. Level 2 Unit 1 introduces the 6 sight words are, was, did, now, at and no, along with long vowel CVCe (consonant, vowel, consonant, silent e) words. Teaching CVCe words and the sight words will be a breeze!
Here's the scope for Level 2 Unit 1: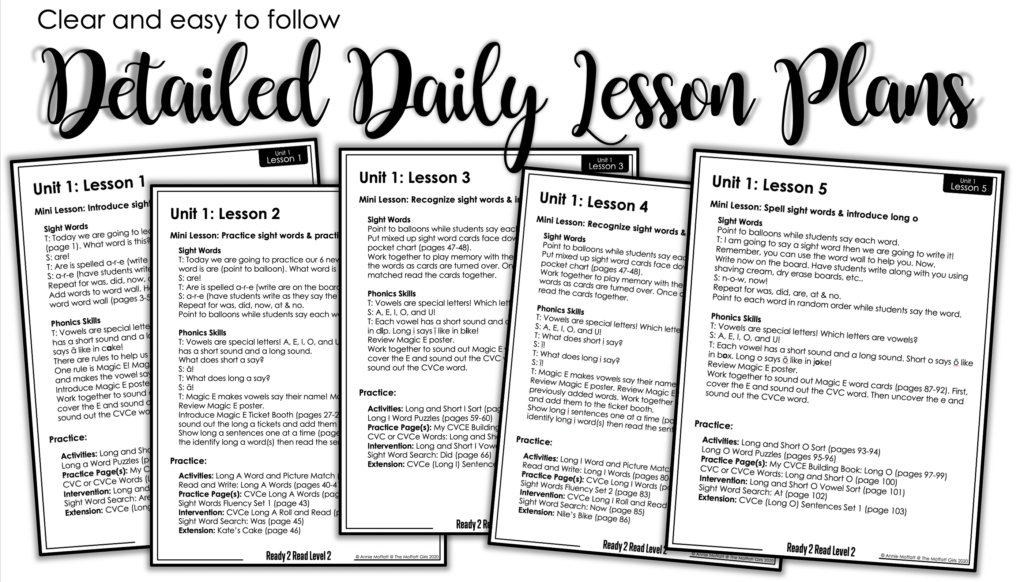 Let's take a look at Unit 1 in action:
Sight Word Centers
Sight words are a critical part of teaching a child how to read, and opportunities for practice is vital. Therefore, I've made an easy and fun way for students to get regular practice every day in the classroom. Even though this blog post shows many of the activities, there are many more not pictured.
To begin, these sight word balloons are a cute way to display the words that are currently being practiced on a word wall.
Also included in Unit 1 is the cover and pages for a personal word wall book. This offers a great reference during writing.
Sight word searches are an effective way for students to practice the spelling of words as they find them in the search.
Children LOVE games! This Sight Word Memory game is a way to help get students engaged in reading the sight words and finding the matching sight word.
The Sight Word Sentence sheets encourage students to identify the sight word as it is used in sentences. This further builds fluency.
CVCe Phonics Centers
Teaching CVCe words with centers makes the learning FUN! These centers teach students about the "magic e" that makes the vowel say it's name. More specifically, the Magic E poster clearly shows how a short vowel CVC word can change to a long vowel CVCe word by adding the magic e to the end.
Pretend play is such a fun part of this unit. I just love how this Magic E Ticket Booth turns ordinary phonics practice into fun! Students can practice their new skills throughout the unit with this center.
These magic e word cards can be used in a variety of ways during a lesson or during independent work. The lightning bolts and star under the e offer a visual cue to help students remember to change the sound of the first vowel.
These CVCe puzzles allow students to build a word as they put together the matching picture.
In the next center, readers must decide if the word on the card is a short vowel word or a long vowel word and sort it to the correct jar.
This next center clearly shows that adding the silent e to the end of the word changes the sound of the vowel.
Next, these picture matching cards can easily be used in a pocket chart, board game letter stand, or even with a sand or sensory table.
Without a doubt, I highly suggest including a station where your students can use sensory materials to build the words. Sand, waxed sticks, play dough, sprinkles or rice are all great materials to use.
The CVCe Sound Cards encourage students to sound out and spell the words. You can use letter magnets or laminate to use a dry erase marker.
For this center, students flip a card, read the word, and write the word under the picture that matches.
In general, once students have had good practice identifying and reading CVCe words, it's time to use them in sentences! These are simple sentences that include familiar sight words along with the new phonics skill.
Phonics Practice Pages
Finally, these pages offer more practice for the silent e phonics skill they have been working on in the centers. The page below focuses on phonemic awareness. Students listen to the vowel sound made in each word and sort it to the long a or short a column.
My CVCe Building Book combines reading simple sentences with spelling out the CVCe words with the given letters.
Next up, turn reading CVCe words into a game with this fun practice page. Students take turns rolling a die, reading a word and coloring the word if they read it correctly.
CVCe Missing Vowels- write the missing vowel for each word.
For this next page, students cut and paste the silent e, write the word and draw a picture to match.
Next, the CVC or CVCe Words practice page challenges students to identify if the word has a short vowel sound or a long vowel sound. Then they can spell the word accordingly.
Read the sentence and draw a line to the matching picture.
Finally, these reading passages combine the sight words and phonics skill. Students read the short story 3 times, color the CVCe words in the passage, and write 6 of the words on the bottom.
I hope you find this resource helpful!
Stay tuned for the Ready2Read Level 2 Unit 2 blog post!