I am SUPER excited about our new CVC Word Family Watches!  This has been on my list of things to make for some time and I am so happy to have finally finished them!
WEARABLE WORDS are a FUN, interactive and meaningful way to teach kids how to read!  When working with word families, kids need lots of practice and reinforcement.   I find that hands-on learning is the BEST way for kids to learn.  These watches are both FUN and hands-on!
The watches are SUPER EASY to use!  Just PRINT the watch, COLOR the watch, CUT out the watch and WEAR it!  WEARABLE Words…it doesn't get any better than that!
COLORING  the word family watch really gives ownership to student learning!  It is a FUN and EFFECTIVE way to reinforce the word family as they color and make their very own word family watch!
It is almost like a craft 🙂
WEARING the word family watches is also a GREAT way for kids to SEE the patterns in each word family and practice fluently READING the words on the watch.  Since they are wearing the watch, they will have lots of opportunities to practice reading and rereading!
For example, on the -at Word Family Watch, student's will practice reading the words:
bat, cat, fat, hat, mat, pat, rat, sat and vat.
After coloring and cutting out the watch, simply add a piece of tape to the band to keep the watch in place.   You can also tape a longer piece around the entire watchband, which will prevent it from ripping…at least for a day 🙂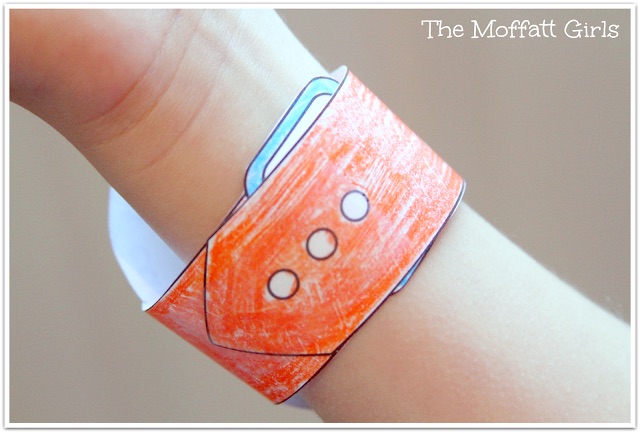 We made our watchbands large enough to slip on and off the wrist…
WEARABLE WORDS can be very meaningful for little learners who are learning to read!  Being able to SEE the words and read the words right from your watch is such an easy way to practice!
This little Moffatt Girls is SO proud of her watch and her ability to READ the words!
This set of CVC Word Family Watches includes 28 of the most common CVC word families and can be used with any reading program:
-ab word family watches
-ad word family watches
-ag word family watches
-am word family watches
-an word family watches
-ap word family watches
-at word family watches
-ed word family watches
-eg word family watches
-en word family watches
-et word family watches
-ib word family watches
-id word family watches
-ig word family watches
-im word family watches
-in word family watches
-it word family watches
-ob word family watches
-od word family watches
-og word family watches
-op word family watches
-ot word family watches
-ub word family watches
-ud word family watches
-ug word family watches
-um word family watches
-un word family watches
-ut word family watches
You can grab our CVC Word Family Watches in our store…
on SALE for a short time…