Today we tried our hand at some very easy, very inexpensive Valentine felt gifts!  Audrey had a blast making a felt heart and some cute felt cookies for her sister.
Gift #1: Valentine Cuddly!
1. Begin by cutting two hearts out of felt.  The felt cost only $0.25 a sheet!  Hole punch holes on the outside edges of the heart.  Use a plastic needle to thread yarn through the holes, or you could just use your fingers since the holes are big enough.
2. Before closing up the heart, lightly stuff with batting.
 3.  Add some cute heart buttons for the eyes and nose (we cheated and just glued them on).
Give it to your sister, way before Valentine's Day, so she can enjoy it!!
Gift #2: Felt Valentine Day Cookies!
1. Start by making circles on your tan piece of felt.  Cut out the 6 circles on the tan felt and 3 pink hearts on the light pink felt…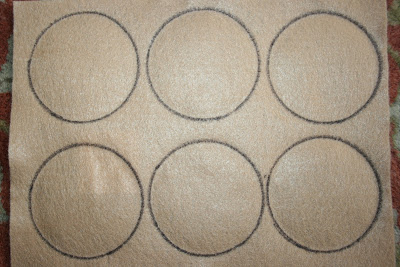 2. Sew the pink heart onto the front of each cookie…
This is such a GREAT way to practice those fine motor skills needed for writing:)
3. Sew around the edges and lightly fill with batting before closing up…
Add little stick beads onto the pink heart to decorate your cookies…
Nothing super fancy, but lots of fun and Audrey did it all by herself!!  She was so proud!  Sophia LOVED her gifts!
Save