I am so excited to be releasing a new product called ABC Cut and Paste!  It addresses so many useful skills and allows children to really interact with a product and take ownership of their learning.  But the best part about this product is that Sophia LOVES it!  The girl loves the alphabet and she likes to cut so this printable really meets those needs:)
Updated on 8/10/13
Begin by coloring in each bubble letter for letter and sound recognition.  Next, trace each letter to help with correct letter formation.
 Cut out the squares with the various fonts.  The different fonts provide opportunities for students to recognize letters in different context and helps with letter discrimination.  The cutting is also great for fine motor skills.
Each sheet will work with 4 letters and the set includes both upper and lowercase.
Finally, students can paste each letter into the correct corresponding boxes.  This activity can be extended by prompting children to name the sound of each letter as they paste them into the boxes, rather than just saying the name of each letter.
My almost 5 year old also took total ownership of this printable, which is perfect for her since she needs a little extra handwriting practice.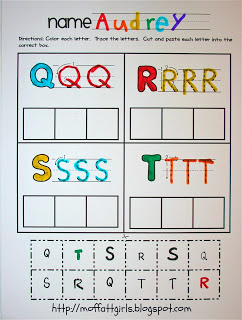 Here are the Common Core Standards addressed in this product:
RF.K.1 Demonstrate understanding of the organization and basic features of print.
Recognize and name all upper and lowercase letters of the alphabet.
RF.K.3 Demonstrate basic knowledge of letter-sound correspondences by producing the primary or most frequent sound of each consonant.
L.K.1 Demonstrate command of the conventions of standard English grammar and usage when writing or speaking.
-Print may be upper and lowercase letters.
This packet is available in our store…