Hands-on, engaging, and systematic phonics for beginning readers! This beginning blends packet is part of the Phonics Made Fun Level B Bundle! Included in this bundle is EVERYTHING you need to teach blends! I have included detailed lesson plans, pre- and post-assessments, and differentiation for your below level, on level and above level students. Level B works with beginning blends, ending blends and beginning and ending blends. Through games, hands-on centers, and activities, students work on building confidence and fluency! The BEST part, learning to read becomes FUN!
The activities included in Phonics Made Fun are low-prep, with minimal cutting. Today we are going to take a look at the beginning blends part of the curriculum.
How are the Units Designed?
Each unit is composed of 4 parts: the pre-assessment, lessons, and the post-assessment. Each lesson introduces new skills while spiraling in previously taught topics.
Part 1: Pre-assessment The unit pre-assessment gives an opportunity to assess prior knowledge. Use this assessment to guide your teaching throughout the unit.
Part 2: Daily Easy-to-Follow Lessons
Each lesson is broken up into 5 easy-to-follow parts.
Mini-Lesson- Introduce the phonics skill of the day.
Activities- Activities that pair well with this lesson.
Practice Pages(s)- Practice sheet(s) that pair well with this lesson.
Small-Group Intervention- Small group teacher table lessons to support students who need extra practice with phonics skills being taught.
Extension- Extension activities to support students who are ready to continue beyond the phonics skill being taught.
Part 3: Post-assessment The unit post-assessment gives an opportunity to measure what your students have learned. Use this assessment to guide your intervention, spiral review, and future teaching.
Part 4: Extra pages This section provides extra pages for each skill. These are great for intervention, seat work, homework, or spiral review.
The Pre and Post-Assessments will test and measure the following areas:
Reading Blends
Identifying Blends
Spelling Blends
What is included in the Bundle?
*There will be a total of 3 units included in this bundle:
Beginning Blends
Ending Blends
Beginning and Ending Blends
Beginning Blends Scope:
Lessons 1-2: L Blends
Lessons 3-4: R Blends
Lessons 5-6: S Blends
Lessons 7: Identifying Beginning Blends
Lesson 8-9: Reading Beginning Blends
Lesson 10-11: Spelling Beginning Blends
Lesson 12: Reviewing Beginning Blends
ACTIVITIES, GAMES, PRACTICE PAGES AND SO MUCH MORE!
Here is a quick overview of some of the activities included in the Beginning Blend unit:
Beginning Blend Booklets
These beginning blend books cover the following L-Blends, R-Blends, and S-Blends.
Working with words that have a targeted beginning blend…
Reading CCVC words that include beginning blends, short vowels, and a consonant.
Identifying words that start with the targeted beginning blend…
Type out words with the targeted beginning blend…
Read and Cover: Read or Silly words…
Beginning Blends Strips
I Can Spell Words with Beginning Blends
When asking students to spell words with beginning blends, we only apply the phonics skills they have been taught. Therefore, spelling activities will only include CCVC words to help build confidence and fluency with blends.
Identifying the Beginning Blend (Flip and Cover)
Add the beginning blend to each word
Introduce the Beginning Blend words with a picture card. Place them in a pocket chart for practice.
Beginning Blend Sorting Activities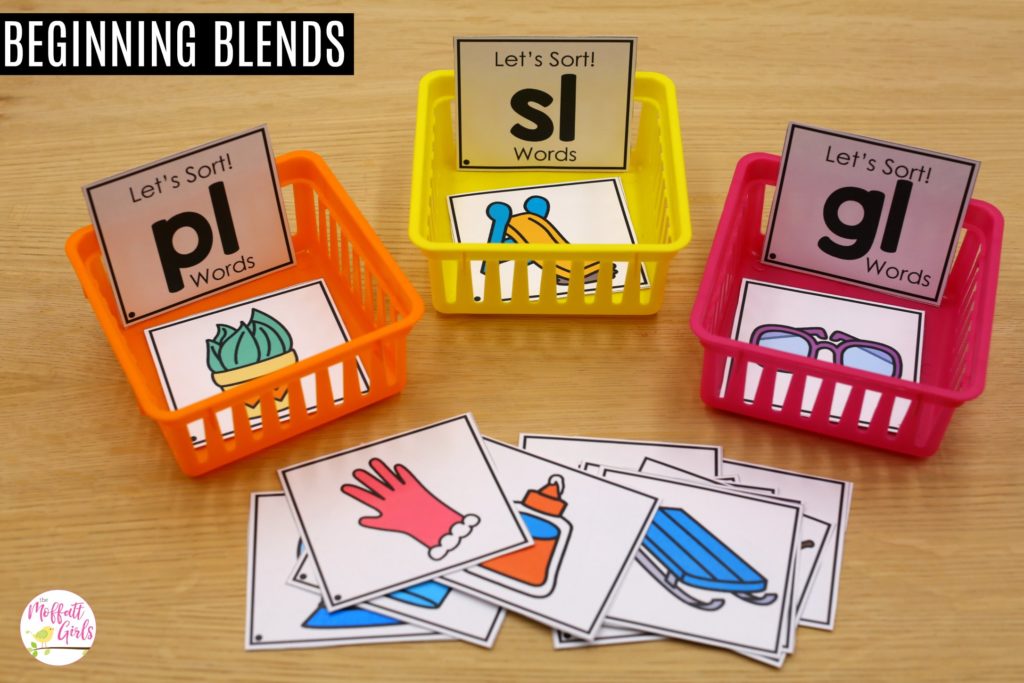 Box Up the Blend
Each blend will be a CCVC word to ensure that students are able to decode the word with the phonics skills they have learned.
Beginning Blends Spelling Lists
Pick a list. Write the CCVC word on your recording sheet. Answer keys are included for self-checking.
Build a Beginning Blend (CCVC) Word
Just add magnetic letters to build each word.
Roll and Cover
Roll a Beginning Blend, cover a word that matches your roll.
Read and Find the Picture
Read the word. Color the picture that matches.
Beginning Blend Word Cards
Beginning Blend word cards! Tons of CCVC words to allow students to practice reading words with beginning blends.
Beginning Blend Cards
Use the Beginning Blend Cards in two ways: 1. Use them to segment and blend words without letters for a phonemic awareness approach. 2. Add letters for students to build CCVC words.
Blend Word and Picture Match-Up
Read the words, match the picture to the word.
Unscramble the Words
Use the letters on the left to build a CCVC word. A variety of mats allow students to build multiple words with Beginning Blends.
Listen and Find
Listen, Find and Sort words with Beginning Blends
Phonics Tic-Tac-Toe
This fun partner game offers a lot of practice with CCVC words.
Phonics Stories
28 Phonics Based Stories to practice applying the newly learned phonics skill!
Additional Practice Pages
Practice Pages that work on 1) Identifying the Blend 2)Reading the Blend 3) Spelling the Blend Word
Phonics Made Fun Level B includes all beginning blends, ending blends and beginning and ending blends!
Also available, Phonics Made Fun Level A, which includes CVC words. To see Phonics Made Fun Level A in action, Click Here.