I am THRILLED to finally share with you my NEW Guided Reading Level A Curriculum! This comprehensive guided reading unit is unlike any other! Get ready to take your guided reading groups to the next level, because all of the planning has been done for you! EVERYTHING you need to make your guided reading groups successful is right here at your fingertips!
What is Guided Reading?
Guided Reading is an instructional approach to reading that involves a small group of readers. Students with similar reading behaviors are grouped together to read a specific level of teacher-selected text. The text is at their instructional reading level. What does that mean? It is the highest level at which a reader is not yet independent, but can still access text with few errors or no errors. With teaching and support, the child can read the text. The teacher works to support each student with explicit teaching and problem-solving reading strategies that help students access more challenging text. Furthermore, the teacher guides the students as they read the text, encouraging them to have meaningful conversations, and employ specific reading strategies.
Why Teaching Guided Reading?
First of all, guided reading does not take the place of explicit and systematic phonics instruction. Rather, guided reading provides students the opportunity to learn reading strategies that they can apply to all levels of text. By working in small groups, students receive reading instruction geared towards their needs. They learn to apply reading strategies that help them access more challenging texts. What's more, Guided Reading also allows you to support your students, improve fluency, expand vocabulary, and work on comprehension.
What is Level A Guided Reading?
To put it simply, Level A consists of the following concepts: "Readers are beginning to learn how print works and to notice the relationship between sounds and letters. They are learning to look at print from left to right, match the written word with the spoken word in print, read text with one line of print with simple words and on familiar topics, and use illustrations to match the print." -Fountas and Pinnell Reading Level Characteristics
What Skills Will Students Practice in Guided Reading Level A?
Level A Guided Reading includes practice in these areas:
Basic concept of print
Holding a book correctly
Reading from left to right
Decoding with picture clues
Using basic sight words
Using beginning sounds
Guided Reading Level A Scope– Each book covers a 4-day lesson plan. Listed below is the scope for the lessons:
Day 1- Preparing and Prediction
Day 2- Practicing
Day 3- Comprehension
Day 4- Fluency and Making Connection
We give students opportunities to read and reread Level A text while providing support. Tracking dots are used to encourage students to finger point to each spoken word. Concepts of print are taught, and students use reading strategies to help them read the Level A text.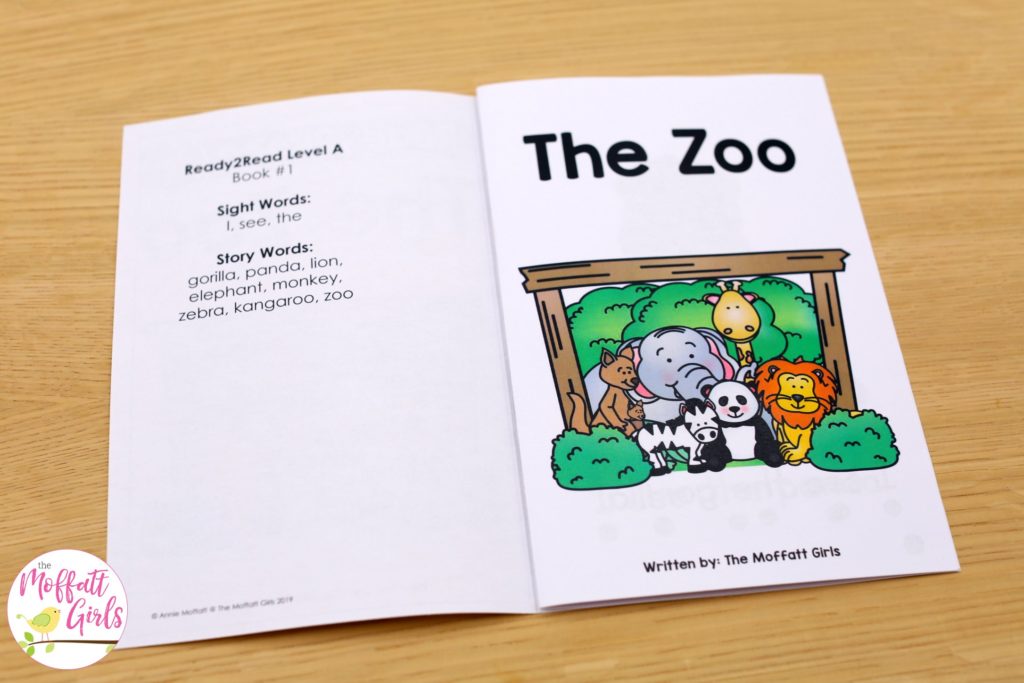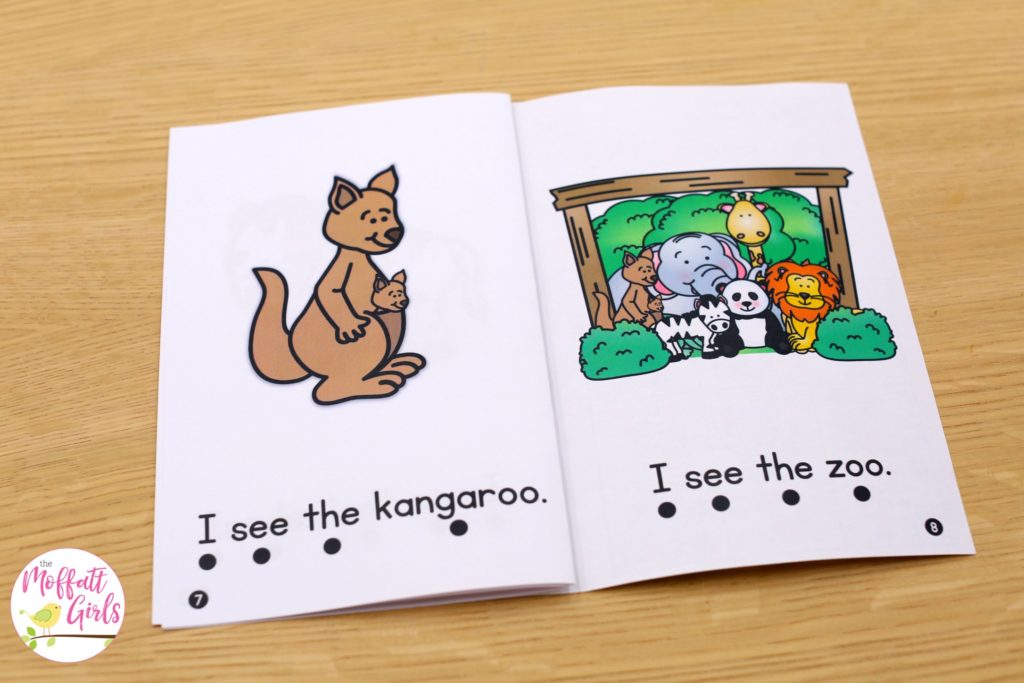 What is Included In Guided Reading Level A?
Included in Guided Reading Level A are 10 Leveled A books! Print these 10 books back to back or single page. They also come in black and white, with and without tracking dots, and in Spanish. The book titles include the following:
The Zoo
My Pets
Dress Up
Toys
What Can I Do?
Fall
Yellow
My Art
Bugs
My Cat
The lesson plans are broken up into the following:
Warm-up– A quick review active to start the lesson
Mini-Lesson– A guided reading lesson plans that covers sight words, decoding, reading strategies, and comprehension
Anecdotal Notes– A place to record notes and reminders
Writing Activity-Three visions of a writing activity that pairs well with the lesson. Choose the version(s) that best suits your student(s). You can use these as part of the lesson, a center rotation, homework, or seat work.
Skill Activity– Three versions of a skill activity that pairs well with this lesson. Choose the version(s) that best suits your student(s). You can use these as part of the lesson, a center rotation, homework, or seat work.
This unit also comes with editable lesson plans in case you wanted to change out the activities or customize them to better fit your students' needs.
Letter Sound Cards for a Lesson Warm up.
Listed below are the guided reading books, sight words, basic skills, and bonus skills included for each book. The basic skills and the bonus skills will all come in 3 different levels. This means that you can differentiate your Level A readers!
You could very well have multiple students reading at level A – but that doesn't mean they should be in the same reading group. For example, Sarah may score a 98% accuracy rate at level A, but reads very. slowly. like. this. Or what if Johnny has a 97% accuracy with level A, but he can't answer the simplest question? You wouldn't want to put them in the same group with Ryan, who has both a high level of fluency and comprehension at the same level. This comprehensive Guided Reading curriculum allows you to differentiate your instruction for these students!
Basic Skills
The basic skill throughout level A remain the same, but include 3 different levels. These skills include:
Making Predictions
Story Word Writing
Writing a Summary
Making Connections
Bonus Skills
Each book includes activities focused on two bonus skills. You can use these for intervention, extension, homework, or seat work. Each bonus skill includes 3 levels of differentiation. The bonus skills include:
Classifying Information
Adding Periods
Real and Make Believe
Using Spaces
Writing a Story
Singular and Plural
Identifying the Setting
Using Capital Letters
Classifying Information
Color Words
Ordering Information
Describing Characters
Each Level A book comes with a Running Record and a Guided Reading Goal Tracker. This will allow you to monitor your students and identify areas of strength and areas in need of improvement. The goal tracker focuses on the reading strategies included in Level A. The Running Records and Trackers will allow you to measure progress over time.
Guided Reading Strategy Posters (mini size). These also come in bookmark form.
Full size Guided Reading Strategy Posters: I Can Hold a Book Correctly and I Can Read from Left to Right.
I Can Use Pictures, and I Can Read Each Word Posters.
I Can Use Sight Words, and I Can Use Beginning Sounds Posters.
Each book also comes with story word (vocabulary) cards and letter sound cards.
Editable Lesson Plans included for each book…
Sight Word Posters and Story Word Posters are included with each book. You can use them in independent work when students work on their writing skills.
Basic skills, like sight word practice, come in 3 different levels so you can differentiate instruction. For example, the two pages listed below are labeled: 4a and 4b. 4a is the simplest level of practice. Students rainbow write their sight words. 4b increases in difficulty, and studes use the color code to color the picture.
4c is a bit more challenging, and requires students to read the sight words, trace the sight word, and color the sight word. Have students circle the sight word, and write the sight word to complete each sentence.
Students make predictions about each book before reading the text.
You can offer more opportunities to write about each text by using the Story Word poster. This also comes in 3 levels.
Making connection to the text…
Students write a summary about the book. There are 3 levels of writing paper to meet students at their levels.
Story Word Matching Activities at 3 different levels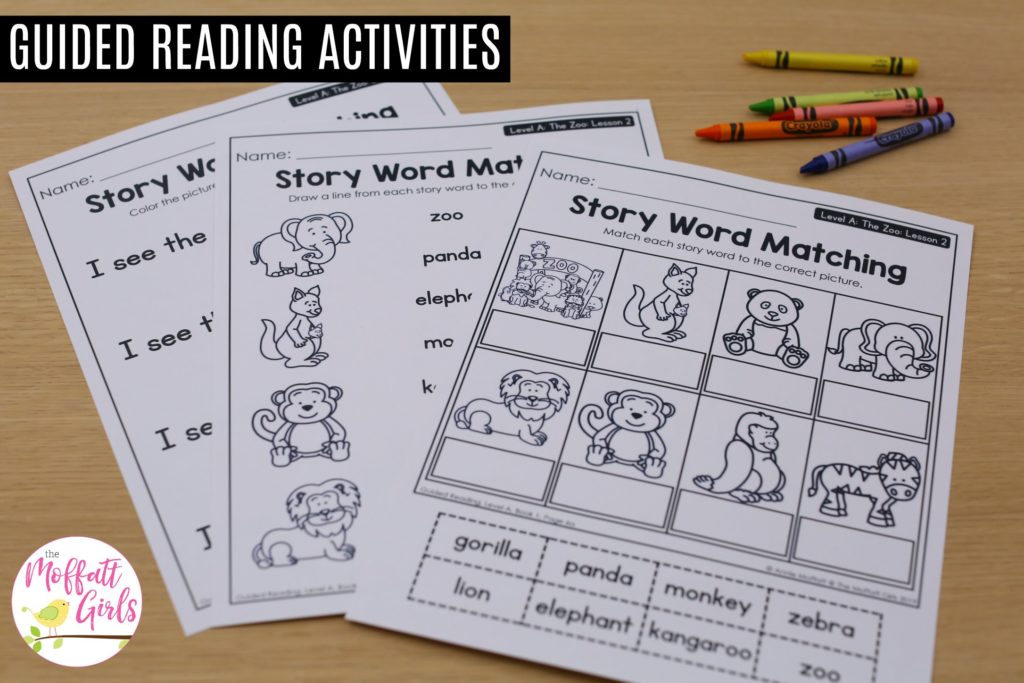 Beginning Sound practice at 3 different levels.
Making Sentences at 3 different Levels. Level 10a: Unscramble the sentence, Level 10b: Cut and paste the words missing in each sentence from the story, Level 10c: Cut and paste the sentence in order, write the sentence, and draw a picture to match.
Classifying Information at 3 different levels
Opportunities for sight word practice are based on the words in each book.
Beginning Sentence-building with story words and sight words from each book…
Guided Reading Resources: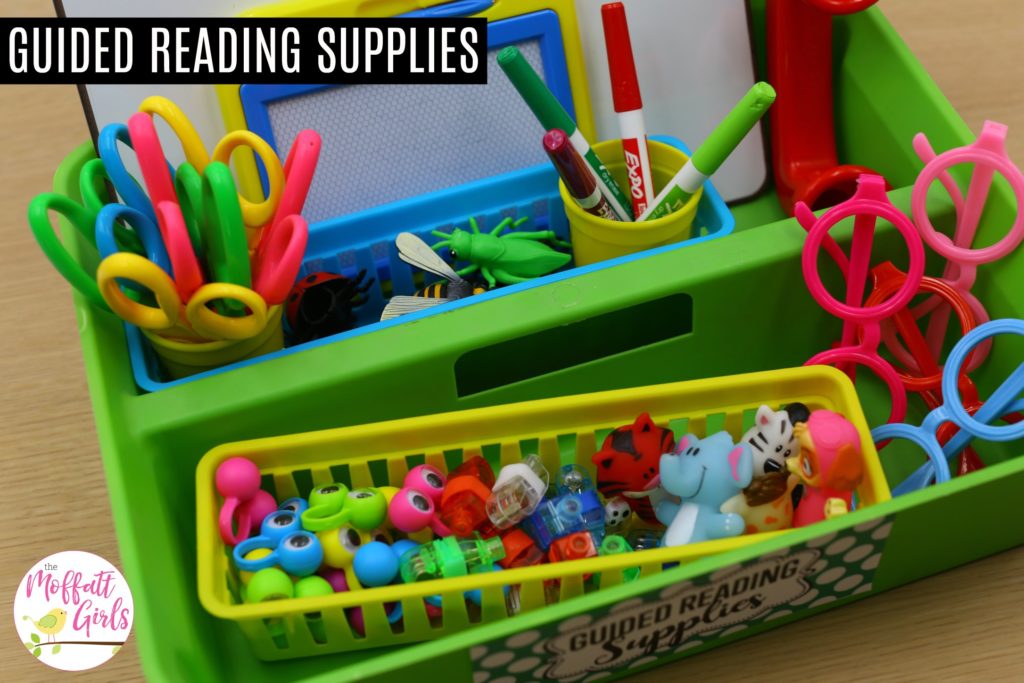 How to Organize:
All of the lesson plans and skills get printed and put in a Guided Reading binder. If you are printing back to back, a 1.5″ binder works well.
I placed 10 tabs in the folder. Each tab represents the lesson plans and activities for that specific book. Everything is organized and ready to go!
There is very little prep involved in these packets. First, you want to print guided reading books. There are multiple options for printing each book. You can print double-sided in color or in black and white. You can also print the books with and without tracking dots. Finally, the books also come in Spanish! Nothing has been left out! I have thought of EVERYTHING for you!
The posters, story word (vocabulary) cards, and sight words cards for each unit are stored in this packet. Everything else goes into your binder.
Guided Reading made EASY and EFFECTIVE! Everything you need right at your fingertips!
What are other Teachers/Homeschoolers saying about Guided Reading?
"O.M.G. This unit has EVERYTHING you need and then some. For me, guided reading sometimes can be overwhelming because you want to make sure you are giving each child exactly what they need in that little bit of time. I am so excited because I can accomplish all that with this resource! It has so much and I LOVE LOVE LOVE the running record sheets. Everything you need is there! Just print and run to your guided reading table!! " -Elizabeth
"This Guided Reading pack is seriously AMAZING! Annie has thought of everything. It is easy to prep and extremely thorough! I was a kindergarten teacher and inclusion specialist who used Guided Reading. Now I'm a homeschool mom and I'm so excited to use this resource with my kids! It's everything we need and more!" -Tiffany
"I LOVE all the Moffatt girls products I've purchased, but this is by far my FAVORITE!!!! It has everything you need to run a successful guided reading group. This is well worth the money spent! I am so excited to use it this year in the classroom and I can't wait for other levels!! Thank you for an amazing resource!!" -Lauren
"With this resource, Annie, you have done everything but come right into our classrooms and teach! The readers are wonderful, perfect for my little English learners. Every activity is differentiated, and so easy to use! You provide everything a teacher could possibly need to implement this program. Thank you, thank you, thank you!!" -Carolyn
"I am so excited about this resource! It has everything you want in a guided reading lesson and more!! I love how there are three levels of differentiated activities included. All the work is done for me and all in one place. Annie has even included bonus skills like classifying information/sorting and punctuation practice." -Mallory
"This will be the only curriculum you need. Rooted in best practices and easy to implement (and low prep too!). It differentiates for you(yes, there are 3 choices for the activities based on where the child is), it has a tracker to help you form instruction, plans, and so much more!" -Debbie
"This is the BEST guided reading program I have ever seen!! Annie has put so much thought into this program and it is easily adaptable for all kids within your classroom!" – Danielle