I am beyond THRILLED today to share with you a brand new Kindergarten Math Curriculum that is designed to make math FUN, hands-on and engaging for Kindergarten students! If you are looking to get away from the boring box curriculum or even just supplement your current math curriculum, THIS is the Kindergarten Math curriculum for you! You can use the units as a whole math curriculum or as a supplement to any classroom or homeschool math instruction.  They can be seamlessly implemented into any math curriculum!
Here are the 11 Units that will be included in the Kindergarten Math: Math Made Fun Curriculum
Unit 4 (Comparing Numbers 1-10)
All 11 Units included!
Click here to check out the 1st Grade Math Made Fun Curriculum!
Get ready to make MATH FUN! Hands-on Centers and Practice pages that will get kids EXCITED about math!
How are the Units Covered?
Each unit will offer two components to help make the math units meaningful and engaging for whole group, small group or individual lessons.  This curriculum gives the teacher flexibility and freedom to rearrange the units to fit the needs of his/her students. Since there are so many practice pages and centers in each unit, the teacher can use many of the pages and centers as a spiral review as the year progresses. The more challenging activities would be best suited for this type of approach.
How to Teach the Units
The grade level standards for each practice page and center are clearly indicated on the Kindergarten Math Standards Sheet. Therefore, you don't have to guess as to what standard is being covered. It is a relief to KNOW for sure that ALL the standards are being covered. This type of resource makes it easy for the teacher or homeschooler to supplement their current math curriculum or implement these units as new curriculum.
Below, you can see how each page corresponds with the grade level standards for kindergarten. Once you cover the specific pages for a standard with the NO PREP practice pages, you can now refer to the standards page for the centers. In contrast to a scripted word-for-word lesson plan, this math curriculum allows for flexibility, giving the teacher control of the scope and sequence.
It's EASY to use and right on target to meet and master ALL grade level standards!
Component Number 1
NO PREP Practice Pages- We all know that kids need a lot of practice to help master math concepts and to help them retain the knowledge. So I've made sure that each Kindergarten Math Unit will have a variety of fun NO PREP practice/worksheet pages for students to practice, practice, practice! These NO PREP practice pages allow students to master math concepts through cutting and pasting, coloring, dice games and more! Best of all, you can refer back to the Kindergarten Math Standards page and see which standard each page covers! Furthermore, you can connect these pages to a center that covers the SAME standard!
Component Number 2
Math Centers- Each unit will have a variety of math centers or stations to help students practice and apply skills and strategies taught within the math unit. These math centers are purposeful and will help to make each math concept more concrete. Math centers or stations increase student motivation by:
*Providing meaningful learning opportunities
*Fostering independence
*Allowing for differentiation
*Best of all…they make learning math FUN!
*****NOTE: ALL math centers are also available in black and white.  You can print the centers in black and white on colored paper to save on colored ink while still keeping it fun.
 A Quick Overview of the Math Centers
This comprehensive and full Kindergarten math curriculum ensures that all grade level math standards are being covered in a variety of ways! The units allow for critical thinking, use of manipulatives, fun and engaging practice pages, and interactive centers that are sure to keep your students wanting more math!
Let's take a look at Unit 1 in Action…
There are 22 Hands-On Centers in this Unit! It is HUGE! I'm excited to show you each center and how it works.
Center Number 1: Bubble Gum Center
You can use any type of manipulate with the bubble gum centers. Playdoh is great for building fine motor skills, but counters or pom poms work just as well. Students flip a number card and place the correct number of objects on the gumball machine.
Center Number 2: Crayon Match Up 
This activity allows students to sort and find the crayons that match each number on the crayon box. The objects on the crayons work with ten frames, counting fingers, dots for subitizing and other common number patterns. Students begin to subitize by seeing "how many" without counting.
Center Number 3: Count on Caterpillar
For this center, simply laminate the caterpillars, grab a dry erase marker and lets kids count on. An important Kindergarten skill is to be able to count on from any given number. Students also practice writing the number on the caterpillar body. Just erase and practice!
Center Number 4:Butterfly Number Match
This center works on counting. Students count the butterflies and match a ten frame and a number to each set.
I love to mix things up to get the full use out of each center as much as possible. I turned this into another center by adding some mini cubes and snap cubes! Flexibility and creativity can lend itself to more hands-on fun!
Center Number 5: Numbers Before and After
Spin the spinner, put the number that you spin in the center, and decide which numbers come before and after.
Center Number 6: Three in a Row
For this game, students will roll a die and write the two numbers that come next or the numbers that come before and after. There are two versions of the game so that students have opportunities to work with either number sequences or numbers before and after.
Center Number 7: Watermelon Seeds One More One Less
Pull a watermelon card, count the seeds, write the number in the middle. Write the number that comes before and after on the lines, and draw the seeds on the watermelon slices.
Center Number 8: One Less One More Watermelon Seeds
Pull a watermelon card, count the seeds, write the number in the middle. Next, write the number that comes before and after the given number.
Another before and after center…
Center Number 9: Popcorn Roll and Play One More and One Less
Math has never been more fun! Roll a die and cover a number that is one more than the number on your die! This center has several pages with different dice for rolling one more or one less. Add a little popcorn for your math cover up pieces and you have become "The BEST teacher ever!" This is Math Made Fun!
Center Number 10: Ice Cream Scoop Numbers
This center is so much fun! Kids work on counting different objects and matching them up to the number cone. This center also works on identifying number words for quantities of 1-10.
Center Number 11: Domino Numbers
I LOVE these jumbo dominos! For this center you need to add some clothespins. On the clothespins you can write the number, the number word or the matching number of dots. By implementing these different types of skills, you are meeting multiple grade level standards!
Center Number 12: Bubble Gum Counting and Writing Numbers
Once you laminate these bubble gum machines, simply add a dry erase marker to wipe on and wipe off! The holes on the left can be hole punched and placed on a ring in baggie for storage.
Center Number 13: Number Word Buses
In this center, students work on counting the dots on the ten frame and identifying the correct number word.
Center Number 14: Apple Seeds- What is One More?
In this cute apple seed math game, students work to count the seeds and identify the number that tells one more.
Center Number 15: Watermelon- What is One Less
Count the seeds on the watermelon ten frame and clip the number that is one less.
Center Number 16: Flower Counting- Count and find a Match
Student count the dots on the flower ten frame and then find and clip the number of dots that match.  This teaches one-to-one correspondence with quantity recognition.
Center Number 17: Pencil Puzzles
In this center, students work with puzzles to match the number of objects to the number. Each number has three puzzles. You can break up the set to have only one set of puzzles or have students work in groups to match these self-correcting number puzzles.
Center Number 18: Apple Tree Math Game
Students flip a basket of apples and place the correct number of apples on the tree. I used these apple erasers from amazon, but I have also included apple squares in the unit that can be printed.
Center Number 19: Ten Frame Mats- Flip and Build
Ten Frame Building mats are a great way for kids to visually subitize numbers. Students flip a card, count the items and build the number on the ten frame mat. You can use any type of manipulative you have: playdoh, counters, pom poms, popcorn, snap cubes or anything else that fits in the squares. Switching up the manipulatives can make this math activity more interesting and fun for kids!
Center Number 20: Number Towers Count and Build
There are three different mats to play three different Number Tower games. In the first one, students work on counting dots in ten frame. They snap together the cubes and build a tower for each number.
On this mat, students simply identify each number and snap the correct quantity of cubes to match.
Count the dots and build the tower to match. This is also a great way to work on subitizing.
Center Number 21: Number Wheels Clip and Match
For this center, students count the items and clip a clothespin to match. You can write numbers, number words or dots on the clothespins to switch it up and practice different skills. This center has 7 different Number Wheels!
Use number words and numbers…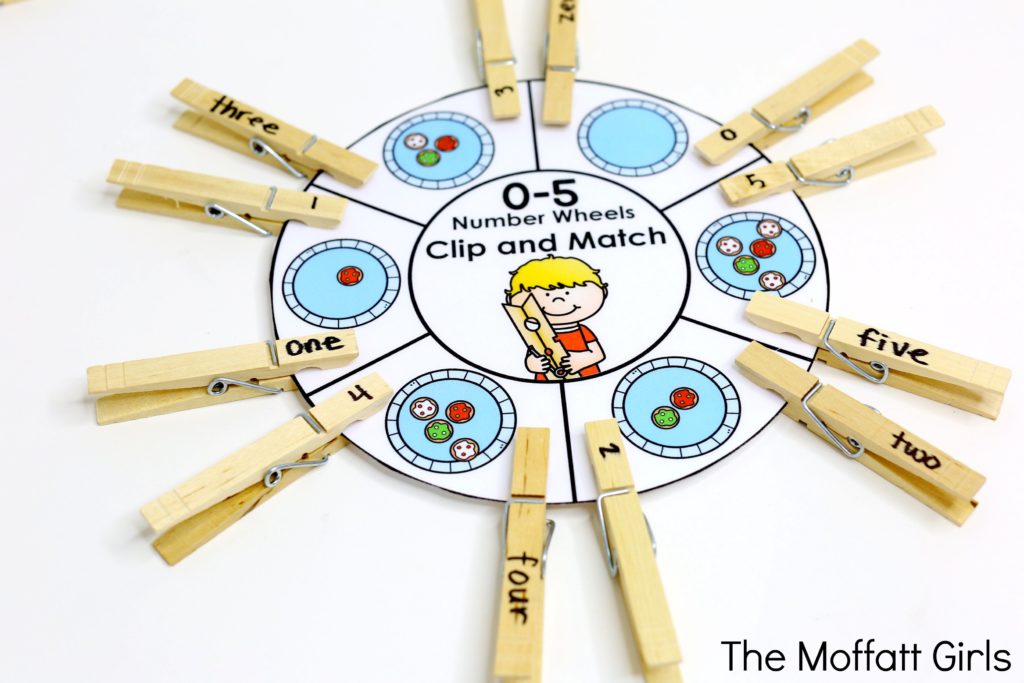 Change it up and add some manipulatives!
Center Number 22: Number Word Match it Up!
These centers work on identifying number words and matching a ten frame bus, a number or a group of dots. There are two number mats in this center and three sets of cards. Therefore, you can use these for 6 individual centers.
Expand the center even more by allow students to play against each other in a game called Flip to Win! Each student gets a number board. Put all three sets of cards together. Flip a card and match it to a number name on your board. If you draw a card that already has a match on your board, put the card on the side. The first person to fill their board wins the game!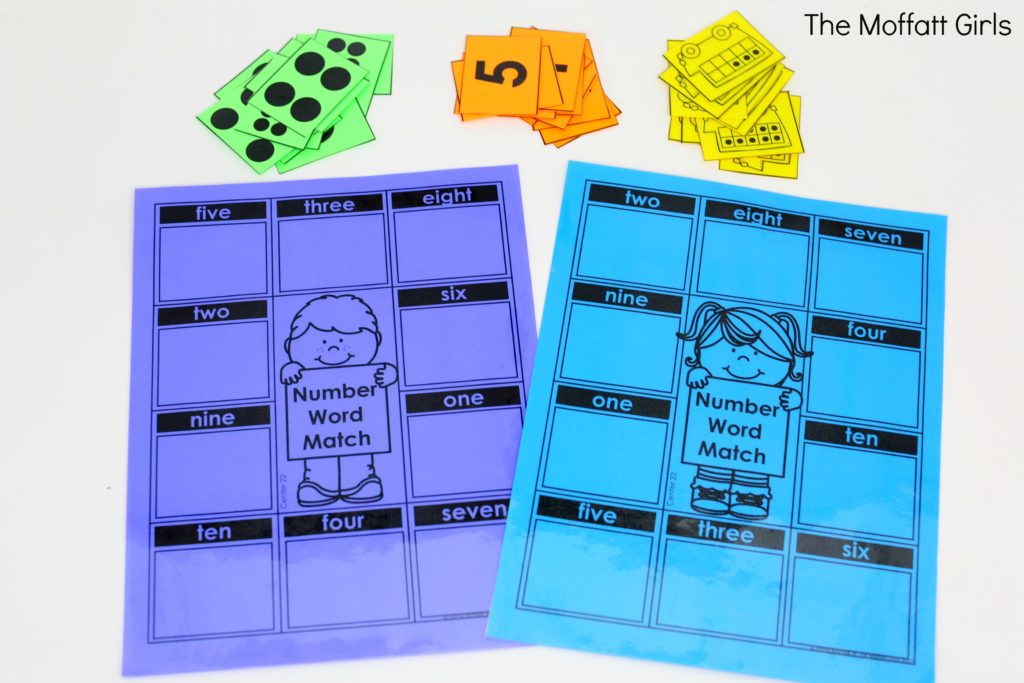 There are 59 NO PREP practice pages in this unit. Here are just a few of the practice pages in action…
Color by Dots: This helps with counting and subitizing, which is an important math skill that kids need to master.
The more challenging practice pages can be used as a spiral review throughout the year!
Number Hunts: These pages help students to see numbers in a variety of ways: ten frames, dice, dominos and dots.
Ice Cream Math: Another activity where students can master their subitizing skills.
Let's Count! Cut and paste the correct set to each number.
Let's Count: How Many?
Number Practice: Good old fashion Number Word Practice that includes exposure to ten frames.
Number Word Practice 
Number Word: Cut and Paste
One More: This activity works on identifying a set that has one more in it.
Roll and Trace a Number- Mastering number words can be a challenge, but this set is a great way to count and connect number words.
Roll and Write a Number- Roll a die and write a matching number.
Roll, Count and Color– Roll a die, find an apple that has the same number and color it.
Organizing the Kindergarten Math Centers
I know that teachers who are organized are more likely to be successful! In my experience, being organized makes us feel more relaxed and able to enjoy the teaching process. It also helps the day go more smoothly. So today I want to show you an easy solution to organizing the Kindergarten Math Units.
I store all of the units inside of sterilite containers. There are 22 math centers in this box. It is a tight squeeze, but they all fit. This is a great option if you are short on space. Costco also sells beautiful containers that are a bit larger.
I like to place each center in a plastic gallon-sized bag.
Each center has a card that explains how to play each game or complete each activity. At the same time, the centers are numbered for easy access and reference for each grade-level standard.
Organizing the NO PREP Practice Pages
I print and put all of the NO PREP Practice Pages into my binder. This allows me to pull the pages that I need to copy and print. When I am finished, I place them back into the binder. You can also use a dry erase maker with many of the pages, making this a great option if you are limited in the number of copies you are allowed to make.
Quick Reference Guide:
Each unit has a quick reference guide that highlights the kindergarten standards that are covered in the unit.
One of my absolute FAVORITE things about this Kindergarten Math Curriculum is that EVERY grade level standard is covered in the bundle! I also tell you exactly which standard each page covers in the NO PREP Binder!
Each center fulfills a specific grade level standard also. Furthermore, this curriculum allows you to connect the practice pages with the centers that correspond to the standard you are working on! Consequently, you can seamlessly implement this curriculum into ANY current curriculum or use it as a stand-alone curriculum!
If you have ANY questions, please do not hesitate to contact me at themoffattgirls@gmail.com.
To see Unit 2 in action, Click Here.
I hope your kids LOVE this math curriculum, and I know it will help make you into a super star teacher!
Save $$$$ with the Bundle HERE
Click here to check out the 1st Grade Math Made Fun Curriculum!
Happy Teaching!