Teaching grammar and language art skills can be a challenge for anyone. How do you hit all of the skills…effectively? How do you know your students are grasping the concepts you are teaching? Often times, only the major grammar and language arts skills are covered, while many are overlooked or only slightly touched upon.
TEACHING GRAMMAR AND LANGUAGE ARTS
There are not enough genuine opportunities for students to learn, practice and revisit grammar and language arts skills. Many of these skills can be boring and/or overwhelming for kids to learn, especially when they are not given a variety of ways to learn these skills. This is why I created our 2nd Grade Grammar and Language Arts Bundle! I wanted to take the BORING OUT of important skills and incorporate activities that are fun, hands-on and highly effective. These language arts and grammar packets not only help students learn about these skills, they help students MASTER these skills! The NO PREP packets give students many opportunities to practice a specific language arts and grammar skill on different levels.
Let's take a look at a few of these packets up close, starting with our Nouns Packet!
Each Packet has a Cover Page to introduce the topic…
Each packet will incorporate an interactive flip book. I like to print this page on colored paper. Students begin by cutting out their flip book and pasting the left side to a blank composition notebook. Once the flip book is inside the notebook, students flip the flaps and give examples for the types of nouns on the outside. This is a wonderful way for students to revisit, review and easily reference the skill they learned! Remember, we are going for mastery!                     This flip book includes common nouns, proper nouns, plural nouns and irregular nouns.
Under the proper noun flip, she wrote Audrey, Disneyland, Moppy (our dog), Daisy (our other dog) and Sophia. This flap of the flip book reminds students that the nouns that name a person, place or thing, and get a capital letter are called proper nouns. The BEST part about these interactive flip books is that you can continually refer back to them as a review.
Let's take a look at some of the noun pages in action…
In this example, we are reading a short passage, identifying the different types of nouns and highlighting each type of noun. We used red pencil for a person, orange for a place, yellow for a thing and green for animals. This simple activity helps students deliberately identify and record different types of nouns.
Once the passage is highlighted, students record their answers in the columns below.
Graphing Nouns covers proper nouns, common nouns, singular possessive and plural possessive…
In this activity, students read the tiles of the books and categorize them by people, places, animals and things. In this example, we grabbed some colorful stickers and used them to color code the books! Such a simple, yet fun and effective way to practice nouns!

Sort and write the nouns in the correct column…

Let's make it fun! Here we did a scavenger hunt around the house for nouns. I let her wander around the house and do this activity completely on her own. I wanted to see what she knew and to see if there was anything we needed to revisit. She did a GREAT job and she was pretty proud of herself!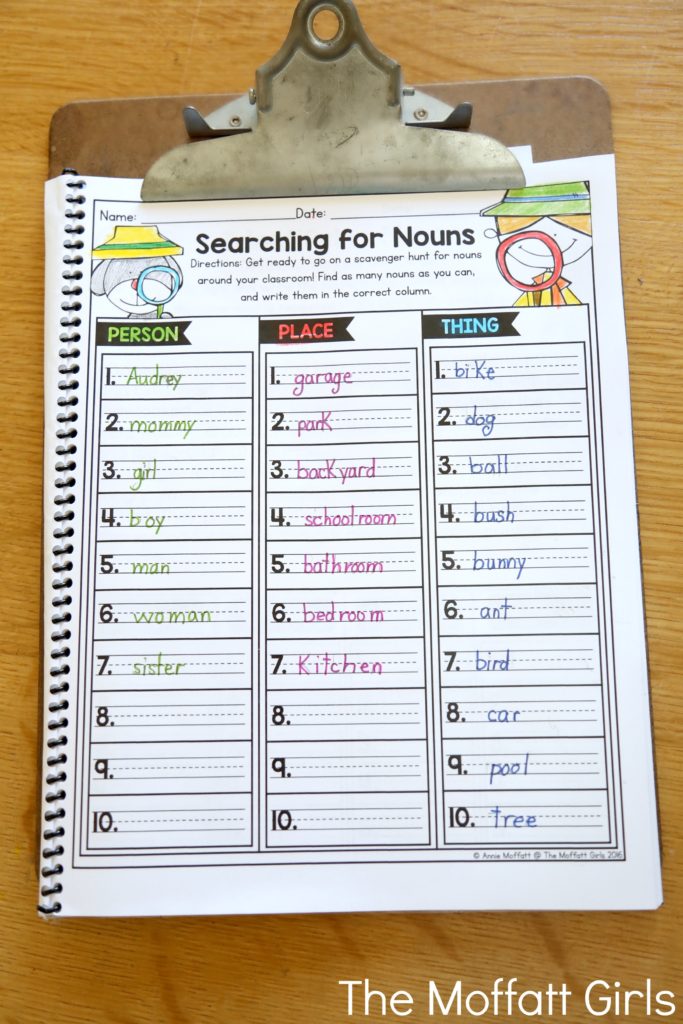 Sorting Common and Proper Nouns..
Regular and Irregular Plural Nouns with Word Searches…
Roll and Write a Plural Noun…
Plural Nouns Cut and Paste
Adjectives are one of the first parts of speech that we teach students. This packet not only introduces adjectives, but takes it up a notch to master adjectives!
Write sentences using adjectives…
Identifying Adjectives…
Pronouns Packet
Here is the Pronoun Flip Book that helps students understand personal pronouns, possessive pronouns and reflexive pronouns.
The Color by Pronoun has your student identify whether or not a word is a pronoun, and then has them decide what types of pronouns they are.
WHAT IS INCLUDED IN THE BUNDLE?
This BUNDLE covers all of the important skills needed to master in 2nd grade. The bundle is meant to help you teach and reinforce important grammar and language arts skills in a highly effective way.  These are the skills and packets included in the Mega Bundle:
1. Types of Sentences  2. Subject and Predicate  3. Sentences, Fragments and Run-ons  4. Nouns (singular, regular plural, irregular plural, possessive)  5. Action Verbs  6. Verb Tenses  7. Pronouns  8. Adjectives  9. Adverbs  10. Conjunctions  11. Time Order Words  12. Capitalization  13. Commas  14. Letters (Writing a letter)  15. Synonyms and Antonyms  16. Related Words  17. Multiple Meaning Words  18. Context Clues  19. Homophones  20. Prefixes and Suffixes  21. Alphabetical Order  22. Dictionary Skills  23. Compound Words  24. Contractions
Language Arts and Grammar Bundle – This is a growing bundle that you can grab at a discount until all the packets have been added!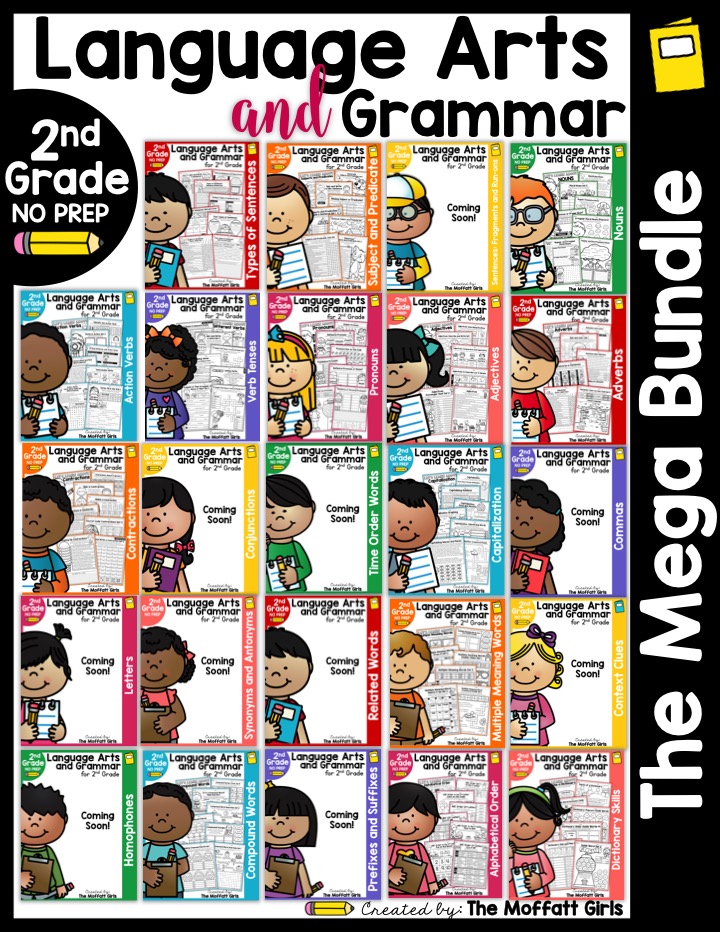 We will keep updating this post with more pictures as we continue to master our way through 2nd Grade Grammar and Language arts!
And here is the Language Arts and Grammar Mega Bundle for 1st Grade too!
Nouns (1st Grade)
Capitalization and Punctuation (1st Grade)
Sentence Parts- Subject and Predicate (1st Grade)
Alphabetical Order (1st Grade)
Types of Sentences (1st Grade)
More pictures coming soon, so stay tuned!