How do you teach spelling? Traditionally, spelling is taught by giving kids a list on Monday and a test on Friday. The problem with this approach can be that students learn to memorize words in isolation.  I am not opposed to spelling tests, but I do think that young students need a hands-on approach to spelling.
The Build a Word Packets allow students to see patterns in words by implementing strategic phonics into their spelling. Within the bundle, there are 6 targeted phonics patterns that build strong spellers by utilizing a hands-on approach.
CVC Words – Consonant-Vowel-Consonant words build the foundation for the rest of the implemented phonics patterns. This packet allows students to build 84 words!
2. Blends – (also known as consonant clusters ) blends are two or three consonants in words that make a distinct sound. The packet works with L-Blend, S-Blend and R-Blend words with 114 cards.
3. Digraphs – a combination of two letters that represent one sound. There are 6 main digraphs in this packet: sh, th, ch, ck, ph, and wh.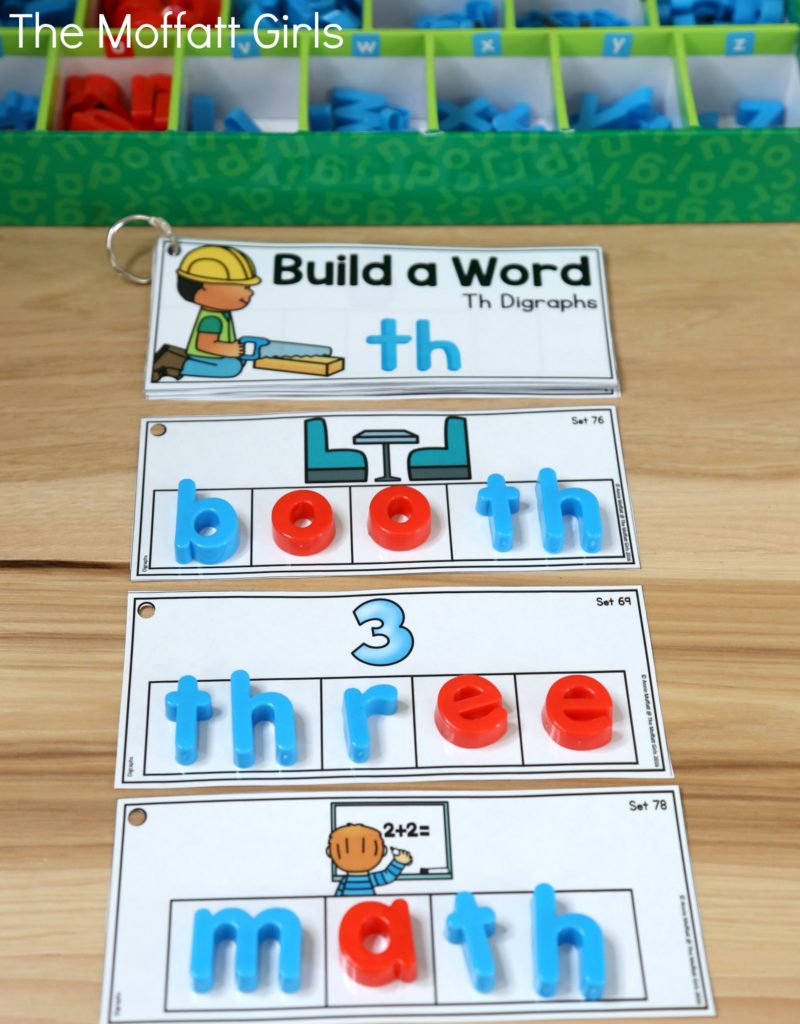 4. R-Controlled Vowels – When the letter "r" follows a vowel it effects the sound the vowel makes. This packet includes 42 cards that will work with the ar, er, ir, or and ur sounds.
5. Long Vowels – Long vowels say their own name. They can work together with a "silent e," or they can work together with another vowel. In this packet of 171 cards, the following vowel patterns will be covered: Long A: a_e, ai, ay  Long E: ea, ee, ey, y  Long I: i_e, ie, igh, y  Long O:  o_e, ow, oa, oe  Long U: u_e, ue, ew, ui
6. Diphthongs:  When a vowel has a noticeable change within the same syllable, it is considered a diphthong. Basically, a diphthong is a type of vowel sound that is made up of a combination of two individual vowel sounds within the same syllable.  The diphthongs included in the 91-card packet are as follows: au, aw, ew, oo, oi, oy, ow, and ou.

Beginning spellers and readers start by sounding out CVC (consonant- vowel -consonant) words. If students know their letter sounds, they can transition to sounding out simple CVC words.  CVC words allow students to work on blending consonants and short vowels.
Next in the phonics progression, student move onto Blends and Digraphs. You can continue with the R-Controlled Vowels and Long Vowels.  Finally, you can introduce Diphthongs.  Soon, I will be releasing a Trigraphs Packet to the bundle too!
Don't have time to cut and laminate all the pieces? 
No problem! Turn a high prep product into a low/ NO PREP Folder! Just print the pages, place them in sleeve protectors and practice!

I hope this hands-on approach to spelling makes learning FUN!
Grab the Bundle HERE
If you like this post, you might like the following posts: