Mastering basic division facts is such an important skill for 3rd and 4th grade students.  Making it FUN is just as important. As a former 4th grade teacher, I fully understand how crippling it can be for students who struggle with the basic math operations. If students can master the addition, subtraction, multiplication and division early on, all other math concepts are so much easier to learn. Let's face it, it's hard to get kids to practice their math facts. This is why I created hands-on, fun and effective bundles that cover the basic math operations:
I am thrilled to share with you this Division Bundle that will help students practice, reinforce and master basic division facts!  There are 9 different packets in this bundle, allowing students to practice division facts in many different ways!  All of the NO PREP pages in the bundle make learning fun, highly effective and rewarding!
Here are a few ways to help organize your bundle, depending on how you want to teach/reinforce each division fact.
Option #1 You can print the packets and place them in labeled drawers for easy access and differentiation. The labels shown here are included as a freebie in the bundle.
Here is a sneak peek of what are in our math bins…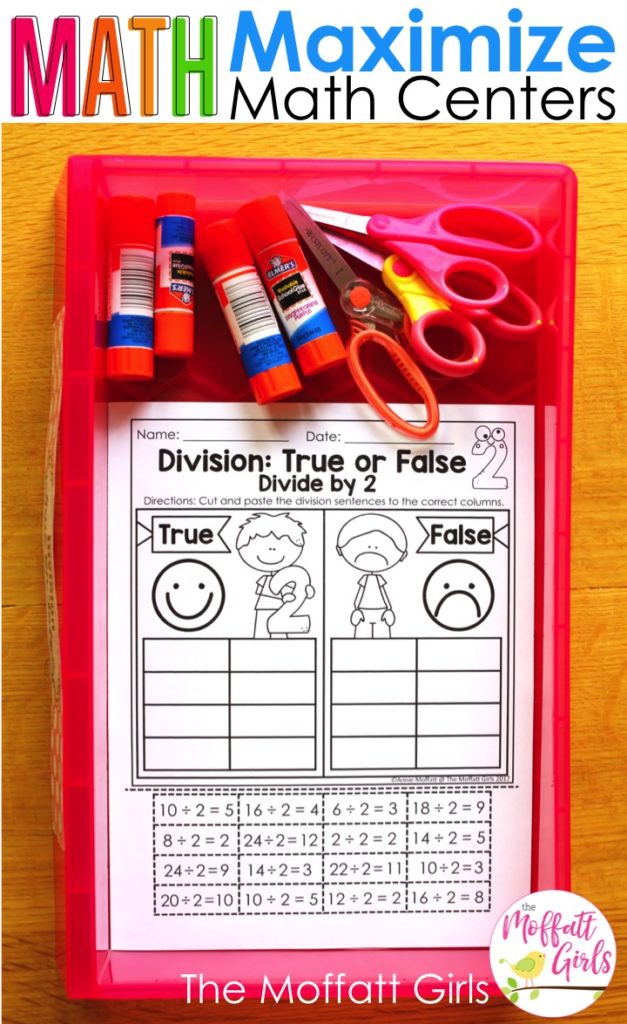 Option #2 You can print the packets and separate them into 12 individual bundles (one for each fact). Also included in the bundle are  cover sheets for each math fact and review sets (not shown below).
Option #3 If you are looking to save on paper, you can print the pages,  place them in sleeve protectors and put them in a binder. Add a dry erase or vis-a-vis marker and you are ready to go! This option makes differentiation for a variety of students easy and quick! Perfect for centers during math rotations and it saves on paper!
#1 in the Bundle… Roll and Solve
#2 in the Bundle…True or False
#3 in the Bundle…Solve and Find 
#4 in the Bundle…Spin to Win
#5 in the Bundle…Fact Families
#6 in the Bundle…Tic-Tac-Toe
A fun options for the Tic-Tac-Toe is to print on colored paper.
#7 in the Bundle…Solve the Riddle
#8 in the Bundle…Spin and Divide (EXCLUSIVE FREEBIE) with purchase of the Bundle
#9 in the Bundle…Timed Tests
Try it before you buy it! Here is sampler FREEBIE for you!
Be sure to check out these other basic math fact bundles: