Ready2Read Level 2 is coming along, and I'm excited to show you Unit 2 of this level. After finishing Level 1, beginning readers should be able to segment and blend sounds of words. Therefore, Unit 2 is all about teaching blend words! I have packed this unit with plenty of fun ways to teach beginning blends!
SIMPLE LESSON PLANS:
Ready2Read includes lesson plans that are clearly outlined and easy to follow. These lesson plans explain step-by-step how to introduce the activities and implement practice. Level 2 Unit 2 introduces the 7 sight words do, like, who, will, he, new and get, along with L Blend, R Blend and S Blend words. Teaching blend words and the sight words will be a breeze!
Here's the scope for Level 2 Unit 2:
Lesson Plans
Let's take a look at Unit 2 in action:
Sight Word Centers
Sight words are a critical part of teaching a child how to read, and opportunities for practice is vital. Therefore, I've made an easy and fun way for students to get regular practice every day in the classroom. Even though this blog post shows many of the activities, there are many more not pictured.
To begin, these sight word balloons are a cute way to display the words that are currently being practiced on a word wall.
Next, repetition is key! These Sight Word Searches allow students to review reading, spelling and writing sight words multiple times.
Matching up sight words is another fun way to practice reading them. Sensory bins also add an extra bit of fun! Paper clips and a magnet help entice student interest as they are searching for matches.
Reading the sight words in simple sentences helps build confidence for beginning readers. The Sight Word Sentence pages are just the trick for increasing fluency.
Phonics Skills:
Teaching blend words is the perfect next step in phonics instruction. Since students have had plenty of opportunities to understand segmenting and blending letter sounds within words, L blend, S blend and R blend words can be mastered using the following fun activities.
L-Blends
First up are the L Blends. These are words that start with a consonant followed by the letter L. The Blends Posters introduce each type of blend in a simple and clear way.
These decodable blend word cards can be used in a variety of ways. First, you may want to practice reading the cards with students. Then add a magnet board or magnetic letters and have students spell out the words.
The Beginning Blends Word Sorts allow students to practice identifying blends within a word or identifying the lack of a blend in a word.
This cut and paste activity provides further practice for listening to phonemes and identifying blend words.
These Picture Matching cards can be used in a pocket chart or on a table top.
The L-Blend Roll and Read offers a fun way to build fluency of reading the blend words.
Once students have had the chance to practice reading and sounding out the L blend words, they are ready to practice sounding out and spelling them. The Build a Word Blenders are a fun way to practice spelling.
These cards allow students to practice isolating the blend within the word in order to spell the beginning of the word with magnet letters.
In the next activity, students say the word found in the corner of the letter card. They must decide where the letter belongs within the word.
The Writing L Blends Words offers more practice of spelling the L blend words.
Once students have gained confidence in reading blend words, the next step is to read them within sentences. This helps build reading fluency and comprehension.
Complete the L Blend Sentences is a great way to check for understanding among students. Sometimes students may focus so much on how to sound out the words that they may not pay attention to what the words mean. Therefore, this activity encourages them to work on comprehending the text in order to successfully complete each sentence.
These reading passages are packed with plenty of words to help students practice reading the blend words within text.
Each blend type includes a My Blends Building Book, and students love these! (You'll see examples of what's inside one of these later on in this blog post. 🙂
Sentence strips are another way for students to practice reading the blend words within simple sentences, along with other sight words that they have been practicing.
R-Blends:
Next up are the R blends. You can hang the R Blends Poster up on a wall, or offer a mini version as scaffolding for students who need extra support.
These decodable word cards can easily be paired with magnetic letters, a white board and dry erase marker for extra practice.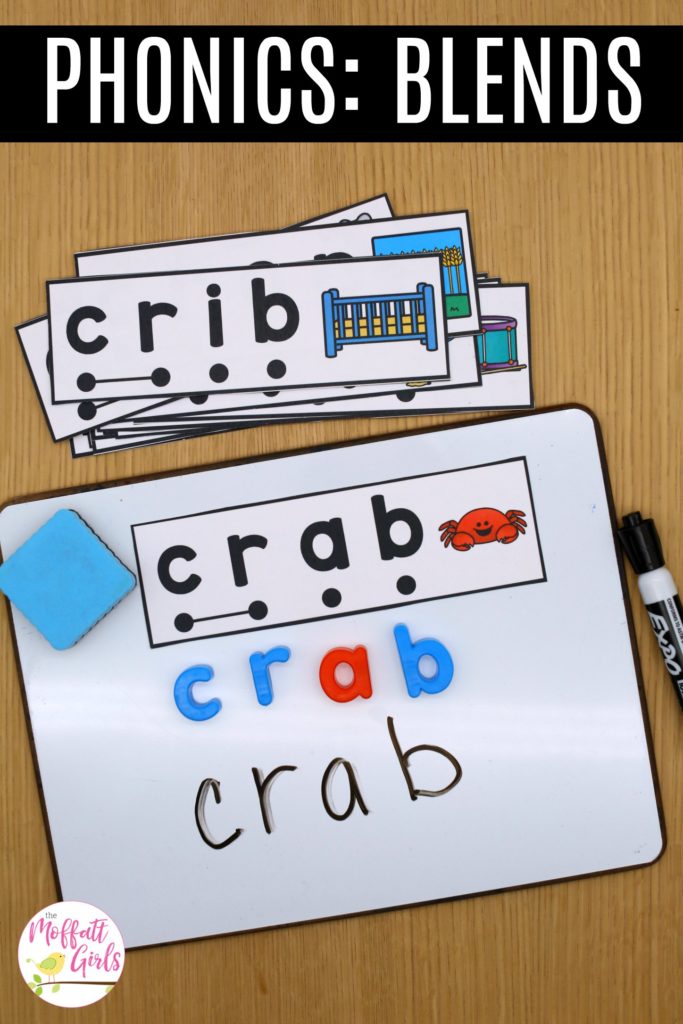 The Word Sort activities compare the blend words to the silent e CVCe words that were introduced in Unit 1.
Here is the R blend Picture and Word Match.
Here is the My R-Blends Building Book. Students cut and paste the letters to build the word. Once they build the word, they can practice reading the simple sentence on the page.
For the R-Blend Roll and Read game, all you need is a die and something to mark or cover the words that have been read.
For the Build a Word Blender, students flip a card and use magnet letters to spell out the word.
This practice page offers another opportunity to work toward mastering the R blend words.
Here are the R blend spelling letters. Match the pictures in the corner of each card and place them in order to spell the word.
These simple sentence strips use the blend words in the context of a sentence.
Complete the R Blend Sentences offer a word bank for students to complete each sentence.
These reading passages were so fun to make, and I hope that they are fun for your students to read!
S-Blends:
The last blends in Unit 2 are the S blend words. Here is the poster to introduce reading S blends.
Here are a couple of pages from the My S Blend Building Book. Students can cut and paste the letters to build the word and complete the sentence.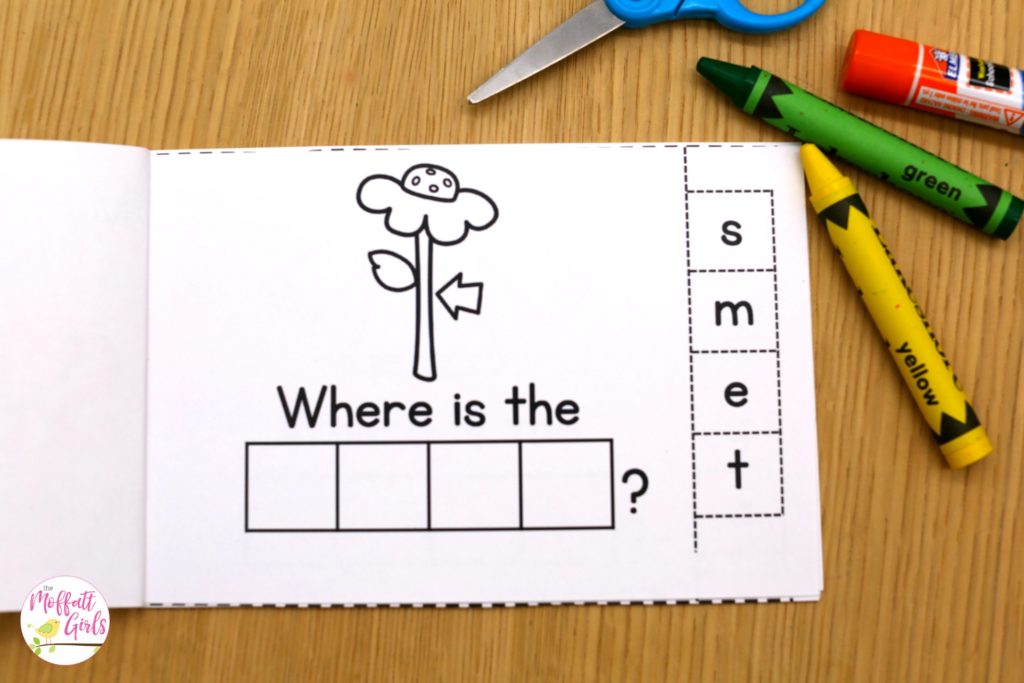 As with the other 2 types of blends, students practice identifying words that have and do not have S blends.
In the Writing S Blend Words activity, students have more opportunity to sound out and spell the blend words.
This S Blend Sentences activities checks for reading comprehension of the blend words within a simple sentence.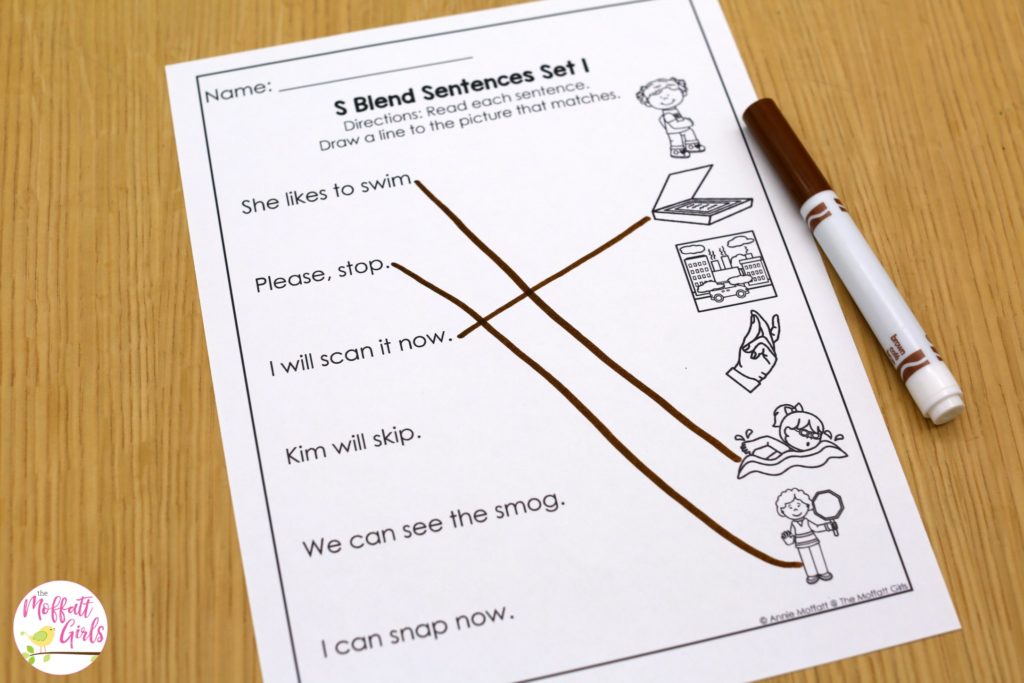 Mixed Review:
To finish off Unit 2, students will practice identifying, reading and spelling all three types of blend words. In the activity below, students read the words on the popcorn them to the appropriate popcorn bucket.
In this Beginning Blends activity, students decide which blend is used for the word of the picture.
Words I Can Read Phonics Lists outline words that students should be able to read by the end of Unit 2. Use these to gauge mastery for these phonics skills.
Once your students have completed Unit 2 of Ready2Read Level 2, award them with a certificate!
I hope you find this resource helpful for teaching blend words!
Stay tuned for the Ready2Read Level 2 Unit 3 blog post!