A writer has been born in our house and I contribute it to the fact that we have been writing every single day in our Daily Journals!  I recently finished our Daily Journal Prompt for March and we are ready for the month of March!
Writing on a daily basis is so important for kids!   It is also super important that the journal prompts are of high interest and engage children in the writing process.  These prompts are so versatile and can be used as a structured writing piece or just a free write for K-2 students.
Daily Journal Prompts for March
I LOVE the fact that Audrey is so eager to write and she usually wants to complete 2 journal prompts a day.  My favorite part about these daily journal prompts is that I had them spiral bound for a couple of dollars and now I have a keepsake for all of her writing.  We will be able to look back and see how much her writing has developed.
The journal prompts come in both handwriting paper and lined paper…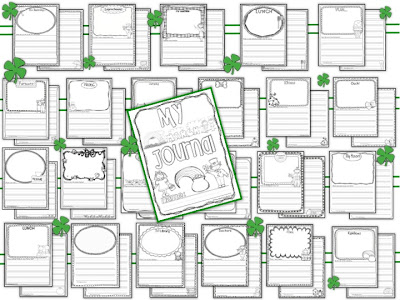 Here is a sample of one of the prompts…
Audrey recently wrote this a cute story about The Mad Blue Bird.  Although it may have grammatical error and no periods, her love for writing is there and I can easily address the other "issues" later.   Her writing has taken off since I started her on our Daily Journal Prompts.  Since Audrey is "technically" only in Kindergarten, I am holding off on a more structured writing program until next year.
Translation…
One day there was a big red juicy apple in the tree and a little bird down in the grass, but that was the Mad Blue Bird.  The Mad Blue Bird wanted to eat the apple so Mad Blue Bird flew up and up until he was up in the tree.  Mad Blue Bird ate a bite and another until he ate it all!
She may have a few run-on sentences and no periods…but I LOVE this story!!
You can grab our Daily Journal Prompts for March by clicking the buttons below!