Guided Reading Level C Curriculum is here! This level of Guided Reading will move students to a more independent level of reading with simple stories, basic sight words, and targeted reading strategies. In addition, the phonics focus for this level is decoding CVC words.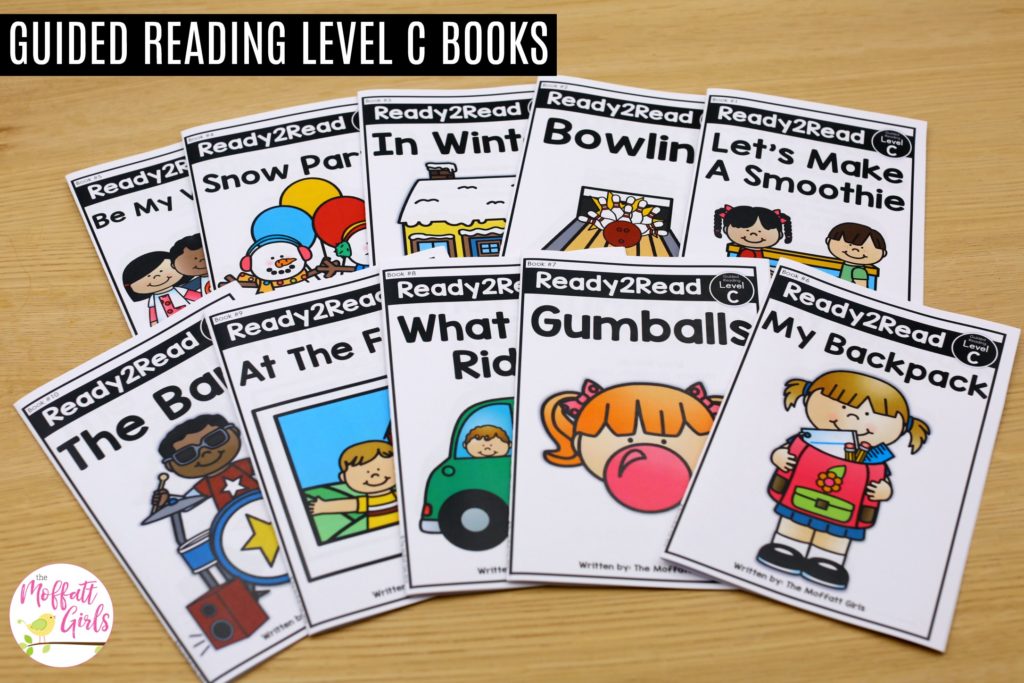 If you missed Guided Reading Level A or Guided Reading Level B, be sure to check them out! If you want to see this curriculum in action, be sure to join my private Facebook Group HERE.
What is Guided Reading? Guided Reading is a small group instruction, which allows the teacher to provide explicit teaching and support for reading increasingly challenging texts. As the teacher targets and implements reading strategies that help guide and support the reader, students learn to think like proficient readers.
There are so many instructional options available in this 600+ page Guided Reading Level C Curriculum, which help make this the most effective guided reading instruction available!
CHARACTERISTICS OF LEVEL C
Read Simple stories with 2-6 lines of text on page.
Notice repeated lines and phrases
Begin to follow text with eyes, rather than pointing
Use strategies to help understanding
Begin to correct reading mistakes
Read easy, high-frequency words (the, and, like, see, here, look, is, can, in, it)
*Source: The Continuum of Literacy Learning Grades K-2 and Grades 3-5 by Fountas and Pinnell
This guided reading curriculum requires very little prep. I start by printing all of the lesson plans. These were printed double-sided and placed in a 1.5-inch binder. I separated each set of lesson plans with a tab. There are 10 tabs, one for each book.
What is included in this Guided Reading Level C Curriculum?
10 Level C Guided Reading Books with and without tracking dots (single and double-sided printing)
Level C Guided Reading Books also come in Black and White (single and double-sided printing)
Easy to follow directions on how to print each book
Level C Spanish version of each book with and without tracking dots
40 scripted lesson plans (4 days of lessons for each book)
Each Guided Reading Book includes lesson plans. The 4-day lesson plans for each book follows this format: 
Preparing and Predicting
Practicing
Comprehension
Fluency and Making Connections
Reading Strategies for Level C include:
Using Pictures
Using Sight Words
Identifying and using Sounds (CVC Words)
Ask, "Does this make sense?"
Writing Strategies for Level C include:
Making Predictions
Story Word Writing
Retelling a Story
Asking and Answering Questions
HOW MANY BOOKS ARE INCLUDED IN GUIDED READING LEVEL C?
There are 10 books in Level C:
Let's Make a Smoothie
Bowling
In Winter
Snow Party
Be My Valentine
My Backpack
Gumballs
What Do I Ride?
At the Farm
The Band
Each book includes 3 Levels of Basic Skills and 3 Levels of Bonus Skills. The 3 different levels of skills allow you to differentiate to meet the needs of ALL your learners.
WHAT BASIC SKILLS ARE TAUGHT IN LEVEL C?
The Basic Skills for Writing and Skill Practice Included in Guided Reading Level C:
Sight Word Practice
CVC Words
Context Clues
Making Sentences
Making Predictions
Story Word Writing
Retelling a Story
Asking and Answering Questions
Each Basic Skill comes in 3 levels so you can meet the needs of your students throughout the course of using the Guided Reading Level C Curriculum. For example, the Sight Word Practice comes in 3 Levels (a-easiest, b-intermediate, c-challenging). Choose the version that best suits each student. These can be used as part of the lesson, a center rotation, homework, or seat work. In addition, as students work through the books, they may need to be bumped up a level of practice. The 3 levels provided for each activity allow you to easily meet their needs.
Level C Up Close…
Each book comes with an easy to follow 4-day lesson plan…
The Guided Reading Level C Overview lays out the books, Sight Words included in each book, Basic Skills for each book, and Bonus Skills for each book.
Students will be giving a list of sight words included in each of the 10 books.
Story Word Cards are also included for each book…
Each book comes in multiple versions: with dots, without dots, double-side printing, black and white printing, single-sided printing, and Spanish!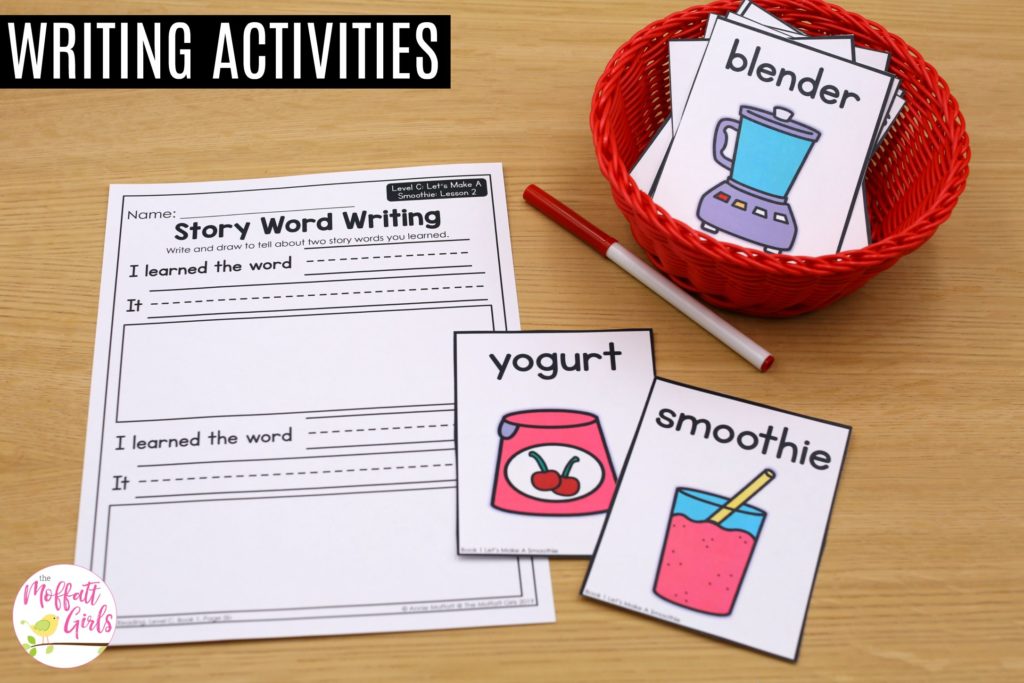 Here is an example of 3 Levels of differentiation for a basic CVC word activity skill.
Here is a Level a page. This page focuses on the CVC sounds and blending the sounds. Students point at each dot to say the beginning, medial, and ending sound. You can use a slinky to isolate and blend the sounds.
Level B focuses on building the CVC word. Students can use magnetic letter tiles to build each sound they hear in a short vowel CVC word.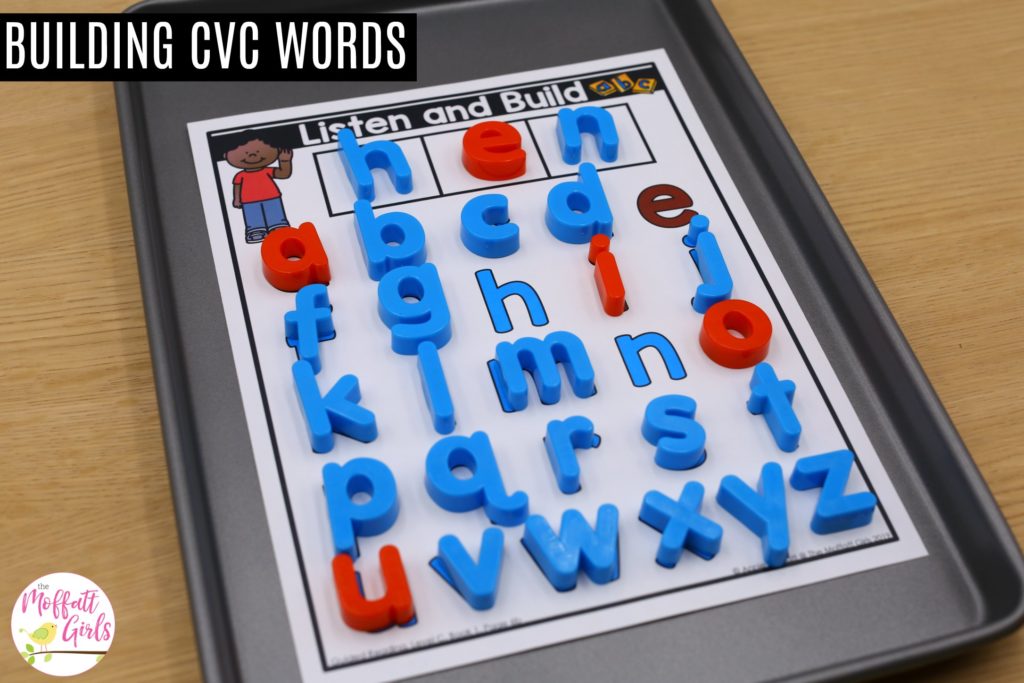 In level c of the activity, students work to identify the correct word that matches the pictures.
Each book also has 3 levels of Retelling the story.
Level A works with using the story words from the book. The cards will assist students in completing this activity.
Level b of the skill requires students to begin to incorporate transitional words into their writing. A directed, simple retelling of the story will help students to write a summary.
Another Basic Skill included in the curriculum is identifying context clues. These skills also come in 3 levels.
Asking and answering questions from the text…
Making Sentences: Level A- Cut and paste the correct word to finish the sentence. Level B- Cut and paste the sentence in order and write the sentence. Level C- Mix it and Fix it up Sentences (3 sentences per page) Write the sentence on the lines.
Bonus Skills Included in Level C:
There are also 2 Bonus Skills per book:
Contractions
Compound Words
Speech Bubbles
Singular and Plural
Using Punctuation
Fact and Opinion
Seasons
Future Tense
Be and Bee
Is and Are
Color Words
Writing a Story
Using Sound Effects
Identifying Setting
ow sound
pronouns
-ing sound
An example of one of the bonus skills included in the Let's Make a Smoothie book is contractions. These are the 3 levels of this skill…
Compound Words is another Bonus Skill covered…
Each book includes a Running Record and a Goal Tracking form…
Here is a quick visual overview of what is included in this GR Level:
Click the links below to see other Guided Reading levels in action:
Guided Reading Level A blog post
Guided Reading Level B blog post
If you have any questions regarding my Guided Reading Curriculum, please feel free to email me at themoffattgirls@gmail.com
Would you like to see this curriculum in action? I did a Facebook Live in my Moffatt Girls- Engage group! You can join this private FB group to see how other teachers and homeschoolers are using and organizing Moffatt Girl curriculum.
I look forward to hearing from you and helping you!
Enjoy the journey!