Hello tired teachers! You're almost done! The end of the year is just around the corner and it's time to assess our students and finish strong! Why should we assess our students? Simply put, End of Year Assessments allow teachers to identify strengths and measure weaknesses based on our objectives at the beginning of the school year! So if you're looking for a clear and simple way to assess your students, you've come to the right place.
I have the following assessments available that are stress free and EASY to implement:
For the student edition, students get an I Can Show What I Know book! This books is less intimidating and allows students to display what they have learned this school year.
Left to Right: Student Book, Teacher Guide, Answer Key
What is Included in the Download?
Student Book: I Can Show What I Know End of the Year Book (Assessments)
Teacher End of the Year Instruction/Guide Packet (To administer assessments)
Teacher End of the Year Answer Key to all Assessments
Grade Level Standards Quick Reference Pages
How do you Administer the Assessments?
The end-of-year assessments are designed to be an easy and engaging way to assess students. For convenience, you can choose to administer most of the assessments in a whole group, in a small group, or one on one, with exception to a few portions that require one-on-one. In addition, the prompts in the Teacher Guide tell you exactly what to do and say! Just read the directions and administer the assessment. Once students have finished the assessment, you can grade it using the key.
There are 4 sections of the assessments to cover each and every math and language core standard for for Kindergarten, First Grade, and 2nd Grade! You can administer each section in about 10-15 minutes a day for a 5 day period. To make it easy to incorporate the assessment into your schedule, I have included an example Administration Guide for each assessment. However, you can administer the test however you see best for your class. (Kindergarten sample show)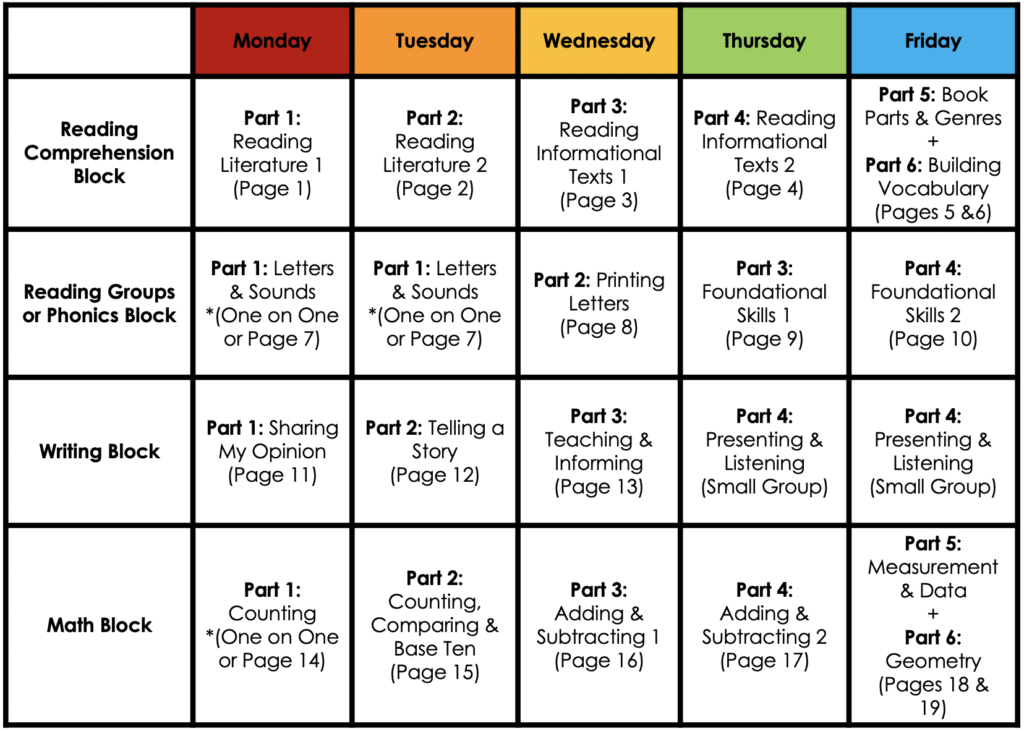 The assessments covers every Common Core standard for each grade listed! Plus, I've made these assessments simple enough for any teacher, teacher's aide, parent or overseeing adult to administer. Once you administer them, you can use the assessments in portfolios, in parent meetings, for grading, or to identify skills to focus on for end-of-year review. You can also pass them on to the next teacher. This is one more set of data that teachers can use to guide their instruction for student success!
Each grade Level has a Quick Reference Standard Cheat Sheet included! On the assessments pages, the standards are listed in the upper lefthand corner of the Teacher Guide. You can use the standard reference page to see exactly what the standard states!
What's Included?
To simplify the layout and cover all of the bases, I have made 3 versions: the teacher version, the student version and the key. The teacher version covers all of the details about how to administer the test and what to say. Print the student version for each student you will assess. This version is simple and clean to ensure your students don't get overwhelmed. Finally, you can reference the key for acceptable answers as you grade the student version.
I hope that you find this resource helpful. Please email me if you have any questions.
Looking for more Summer Learning Packets?
Grab a NO PREP Summer Review Packet! These NO PREP Summer Learning packets provide 6 Weeks of Summer Learning to help avoid the dreaded Summer Slide! This is probably the BEST gift we can send home with our students, are parents are sure to thank you! You want to get the grade level that the student just completed. For example, if they just finished Kindergarten, you want to send home the Kindergarten Packet. Linked below are all the Summer Review NO PREP Packets:
Click Here to read the Summer Review blog post (freebies are included), or click the links below to go straight to the product in my store.
QUICK PREVIEW OF THE SUMMER REVIEW PACKETS
PRESCHOOL SUMMER REVIEW: 6 Weeks of Learning with Numbers, Letters, Sounds, Sequencing and SO MUCH MORE!
KINDERGARTEN SUMMER REVIEW: 6 weeks of learning that includes daily math, reading, writing and something FUN!
First Grade Summer Review: 6 weeks of learning with math, reading, writing and so much more!
Second Grade Summer Review: 6 weeks of learning with reading, writing, math and more!
Third Grade Summer Review: 6 weeks of learning with reading, writing, math and more!