Paper clutter drives me crazy!  This simple system has worked so well for me that I wanted to share it with you once again.  It is easy to let paperwork take over, this filing system offers a simple and sanity saving solution.
One of the things that can overwhelm me and cause me lots of stress, is piles of paperwork!  Papers seems to pile up so quickly, and get out of control in no time at all! As a former teacher and now a homeschooling mom,  I knew that organizing our paperwork was top priority.  I couldn't let piles of papers overtake our classroom and clutter our life.  I feel yucky when there is a ton of paperwork just sitting there, begging me to put it away! I walk by the paperwork and we pretend not to see each other.  It is a mutual agreement…until I break down and deal with it.Then there's the burning question…What do I do with all of their schoolwork?   Do I keep every single thing or do I toss some of it into the "round" file?   Last year, I implemented a very simple system that saved my sanity and worked for me.  In fact, it worked so well that I decided to do it again!
I set myself up for success by getting my monthly file box ready to go before the school year starts.  I have 12 files for each girl, one for each month.  The tabs have their name on them and a specific month.  In our schoolroom, we have a box for completed work. When the girls finish a page or project, it goes into their finished box. At the end of the month, I grab all of those papers and file them in their file folder.  Easy! I will let the girls decided what they want to keep or toss when they are older.  For now, 80% of their work is filed away. The other 20% made it into the trash  "round" file.
Aren't they cute!?! I have a slight obsession with The Container Store!
Next, I labeled all of the files. One fileolder for each kid, for each month.
It was much easier to use a hot glue gun than tape.
It lasts longer and you can easily pull it off.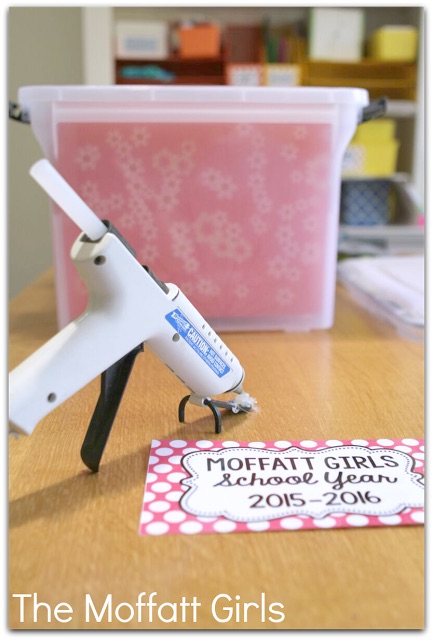 The file box sits in the corner of our room for the entire school year,
which is why it needs to look CUTE!
Here is a look at last year's file box.
The one on the right is jammed packed with schoolwork and projects.
I seal up the box and put it in the garage.
The file box on the left is for this coming school year.
That's it!  It's not complicated, and it is SUPER effective!
Another way you can use this filing system is to file away activities and worksheets by month.  For example, if you found a really great Valentine's Day activity online, you could print it and file it in February's file.  It is a great way to keep your "awesome" finds all in one place.
Be sure to check out lasts years post 
here
Check out these other fun ways to help organize your classroom:
Classroom Organization  and  File Folder Activities
I hope this helps a little!
Happy Organizing!
Save