Unit 3 of Pathway to Fluency is here, and it's filled with effective and fun activities to teach reading! Unit 3 continues the systematic approach of reading instruction. To begin, in Unit 1 students learned to identify letters and the sounds they typically make. Then in Unit 2 of Pathway to Fluency, students were introduced to CVC words, as well as plural CVC words, simple double-consonant words and silent e word. Continuing on, Unit 3 teaches students primarily blends and digraphs. As your students begin to learn more and more phonics skills, the door opens for a broader range of literary materials, which makes reading more fun!
If you are unfamiliar with this reading program, I'll break it down for you. Pathway to Fluency is a complete and comprehensive Science of Reading (SoR) Aligned Curriculum! Simply stated, it has everything you need for your whole-group, small-group and one-on-one reading instruction. Furthermore, Pathway to Fluency has been developed to teach everything from phonological awareness to fluency and spelling in a systematic way using methods that have been proven to be effective.
In the blog post for Pathway to Fluency Unit 1, I offered an explanation of what Science of Reading is and why it is vitally important when teaching children how to read. The Unit 1 blog post also includes an outline of the scope and sequence of the Pathway to Fluency Curriculum. To read the Unit 1 blog post, Click Here. To read about Unit 2, Click Here.
WHAT'S INCLUDED IN PATHWAY TO FLUENCY UNIT 3?
START HERE FILE
I have included the Start Here file to give you an introduction to Pathway to Fluency Unit 3. It also provides a brief overview of what the term science of reading means and how to implement best practices in your classroom using the Pathway to Fluency Curriculum. I encourage you to refer to this file as you teach through Unit 3 for helpful reminders.
FOLDER #1: LESSON PLANS AND ASSESSMENTS
Unit 3 includes 9 weeks of instruction with lesson plans for whole group lessons and small group center practice. These easy-to-follow lesson plans provide a structured approach to help you introduce, practice and apply the Pathway to Fluency materials and concepts in your classroom. More specifically, each lesson is broken down into 4 categories: Oral Phonological & Phonemic Awareness, Phonics, High Frequency Words, and Application & Independent Practice.  The first three categories are done in a whole-group setting, while the Application & Independent Practice is done in small-group centers.
Each unit also includes a mid-assessment and post-assessment to help you gauge your students' progress and to help drive instruction.  The Unit 3 Assessments check for understanding in phonological and phonemic awareness, letter name and sound identification, and reading high frequency words (heart words).  These assessments are quick and easy to administer one-on-one.
FOLDER #2: WHOLE GROUP RESOURCES
This folder has all of the cards and posters that you will need to support the whole-group instruction. More specifically, the files include sound wall cards, letter formation and letter sound posters, and high frequency word posters. These visual aids can be displayed on a classroom wall for easy reference as students are working on the centers.
SOUND WALL CARDS
The sound wall cards can be used to form the Vowel Valley and Consonant Sounds charts. There are a total of 44 sound (phoneme) cards to help introduce each phoneme. Each card shows proper mouth formation, an example of the sound within a word, whether the sound is unvoiced or voiced, and the possible spelling combinations (graphemes) that can create the sound. You can choose use the locks to cover the graphemes that have not been introduced.
WORD-BUILDING LETTER CARDS
These cards can be used to review letter sounds and build to sound-out and read words. They can also be used for word chaining during a whole-group lesson. Below is an example of how word chaining works. Switch out one letter at a time to form a new word.
HIGH FREQUENCY WORD POSTERS
These posters show the word, letter groupings, and hearts to represent irregularly pronounced letters within the word. In addition, the cues at the bottom should be said as you introduce the irregular letter groups.
FOLDER #3: CENTER ACTIVITIES
Each week includes 4 centers for small group practice. These no-prep centers provide a hands-on way for students to take what they have learned in the whole-group instruction and practice those skills in a smaller group. This practice helps them become more fluent readers.
There are a total of four centers each week. You may want to consider dividing your class in one of two ways depending on your classroom size and schedule:
Five groups- Four groups will each be at one of the four centers. The fifth group will be meeting for small group instruction at the Teacher Table. Each group would meet with the teacher once a week.
Four groups- Each group will be at one of the four centers. The teacher will pull one group at a time for small group instruction at the Teacher Table. This option allows for each group to meet with the teacher daily, but requires slightly larger group sizes.
Each center includes a phonics and a high frequency word activity, with additional practice pages that correspond to the activities. Also, each center activity comes with multiple versions of each for repeated practice. For consistency, the activities are the same from week to week.
WEEKS 1-3 & 5-8: INTRODUCTION TO LETTER SOUNDS & HIGH FREQUENCY WORDS
CENTER 1 PHONICS ACTIVITY: Roll and Read!
Students roll a die, read the phonics words and cover a star each time they read.
Here is the independent practice page that students can take home to continue this skill.
CENTER 1 HIGH FREQUENCY WORDS ACTIVITY: Roll, Read & Trace!
Students roll a die, read a word and trace it.
CENTER 2 PHONICS ACTIVITY: Map it and Build it!
Students say the word, use manipulatives to map the sounds in the word and build the word using magnet letters or letter tiles.
As a follow-up activity, students cut and paste the letters to build the word. (*Note: the image above is from week 8, and the image below is from week 1. That's why the phonics skills are different, in case you were wondering).
CENTER 2 HIGH FREQUENCY WORDS ACTIVITY: Read and Clip
Students will read, tap and map the high frequency word. Then they will clip the word along the edge.
For the independent practice page, students color the word by code.
CENTER 3 PHONICS ACTIVITY: Say it, Map it, Write it, Read it
Students say the word, map the word using manipulatives and write and read the word on the line.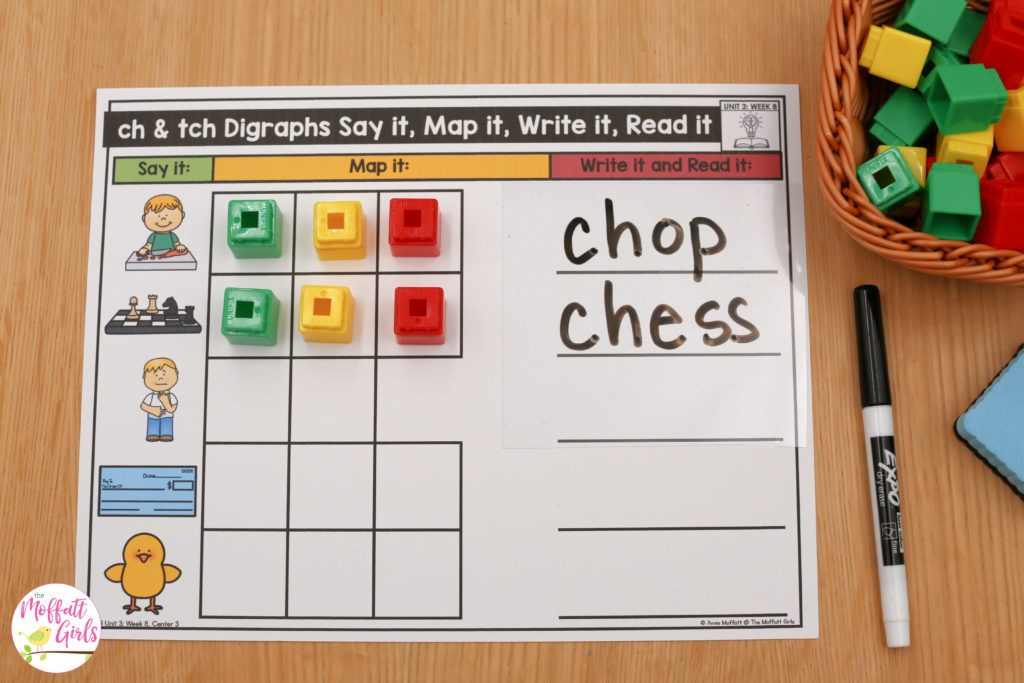 The independent practice page follows a similar structure.
CENTER 3 HIGH FREQUENCY WORDS ACTIVITY: Spin, Map and Write
Students spin the spinner, map the word and write it in the correct column.
CENTER 4 PHONICS ACTIVITY: Say it, Map it, Cover it, Write it!
This activity gives students the chance to find the letters they need, cover them and write the word.
The independent practice page is similar in that students can type the letters they need to make the word.
CENTER 4 HIGH FREQUENCY WORDS ACTIVITY: Spin and Cover
Students spin the spinner and cover a word to match.
WEEKS 4 & 9: REVIEW
Weeks 4 and 9 in each unit will offer students the opportunity to review the skills they have learned. These weeks also offer you the opportunity to administer the mid- and post-assessments in order to guide your teaching.
CENTER 1: DECODE IT AND FIND IT!
Students read each word and find the matching item below.
CENTER 2: Spin, Build and Write
Students spin the spinner, say the word, build the word and write it on the lines.
CENTER 3: ROLL IT, MAP IT AND CIRLCE IT!
Students roll a die, map the word and find the word.
CENTER 4: High Frequency Word Tic-Tac-Toe!
Students take turns writing their sight word on the board to play tic-tac-toe. Students LOVE this one!
FOLDER #4: PATHWAY TO FLUENCY UNIT 3 TEACHER TABLE TOOLS
The teacher table is where you can differentiate your reading instruction based on your students' individual needs. The "TTT" folder has all the resources that you will need for small-group instruction for the concepts introduced in Unit 3. These materials are organized by type, and then by week. Therefore, you can easily pull activities from previous weeks for review as needed.  Use the Teacher Table Tools throughout the unit to offer scaffolding for struggling students, additional practice for on-track students and extension activities for students who are ready for more challenging work.
ORAL PHONOLOGICAL & PHONEMIC AWARENESS PRACTICE
To start, additional phonological and phonemic awareness activities are provided. These coincide with the whole-group lesson exercises. Use them as a warm-up at the beginning of small group instruction.
LETTER CHAINING ACTIVITY
Students can use the given letters to build a word, listen for the prompt for the letter change in the word, and read the new word.
WEEKLY WORD LISTS
Each week includes a word list of all decodable words. Students can map and encode the words.
Which Word? Cards
Next up, use these cards to have students decode and choose the word that matches the picture.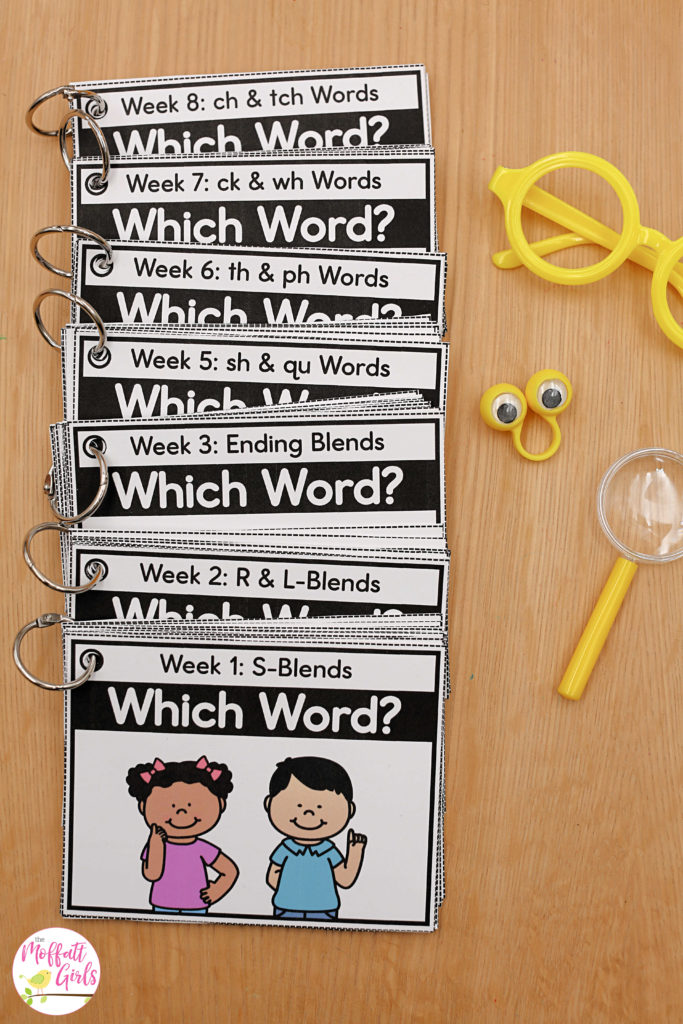 Encoding Practice
For this activity, students practice sounding out the word to build it.
Making Words
In this activity, students practice identifying which beginning or ending letters complete the real word. The incorrect letters will make a nonsense word.
Say it, Tap it, Write it Mats
Students say the word, tap the dots as they sound out the word, and write the word.
PHONICS FLUENCY STRIPS
These offer extra practice for reading reading the phonics words while focusing on speed and accuracy.
HIGH FREQUENCY WORD CARDS & SAY IT, MAP IT, GRAPH IT CARDS
Use these as a warm-up at the beginning of small group instruction and as a scaffold for struggling students.
APPLICATION STRIPS: PHRASES & SENTENCES
Use these in one of 3 ways:
1.Students find phonics words
2.Students find Heart Words
3.Students read full phrase or sentence.
FLUENCY RACERS (WEEKS 4 & 9 FOR MIXED REVIEW)
Use these to build fluency by saying the letter sounds or heart words quickly and with accuracy.
LISTEN & WRITE DICTATION SENTENCES:
Use for students who are ready to encode 3- to 5-word sentences.
Read and Seek Passages
These are one of my favorite additions to Pathway to Fluency. They are decodable passages for students of all levels, and they include prompts for scaffolds, on-target and extension questions.
DECODABLE READERS
This is one of my favorite parts of this unit! Weeks 1-3 and 5-8 each have two 4-page books (one page printed front and back) to re-enforce the phonics skills and high frequency words learned for each. Weeks 4 and 9 have three 4-page books for review. Furthermore, they build confidence in reading by allowing students to read decodable text in a fun short story.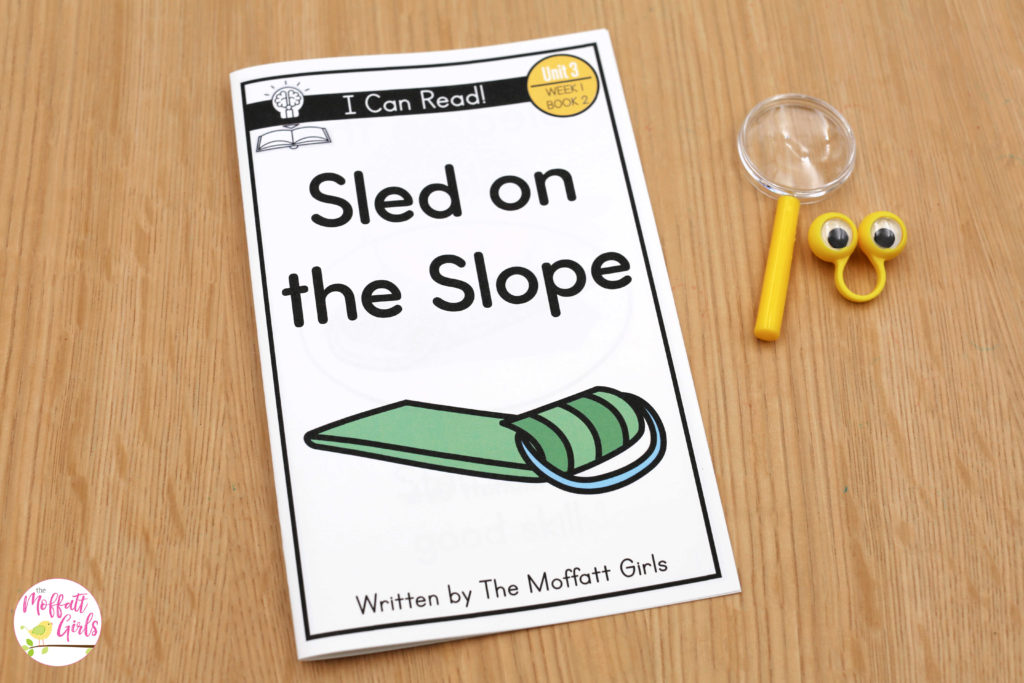 PATHWAY TO FLUENCY UNIT 3 MY HANDWRITING BOOK
This book offers students an opportunity to practice proper letter formation while also practicing phonics skills. You can choose to use these books at the Teacher Table to monitor mastery or as extra practice for students who have finished the center work. Each week includes 4 pages that progress to provide spiral review throughout the weeks.
Here is a link the entire Level 1 of Pathway to Fluency!
I hope that you find this resource helpful! If you'd like to read about Unit 1, Click Here.
To read about Unit 2, Click Here.