I am SUPER excited about our new file folder games!   If I was still teaching in the classroom, I would make a TON of file folder games! They are perfect for math and literacy centers and easy to store away.  However, as a homeschooling mom, I am selective as to which printables I turn into a file folder game.
I KNEW that our Read and Sequence packet would be PERFECT for the youngest little Moffatt Girl.  she is in Kindergarten and we are working hard on building fluency and reading comprehension. Since this packet works with both, I wanted her to be able to practice reading simple sentences that included both sight words and cvc words.
The file folders are VERY easy to make!
Step #1: For the Read and Sequence Set, I cut off the bottom part, which is the interactive piece.
I glued the top part to the file folder.
Step #2: Laminate your file folders.  I took the file folders to a teacher supply store to laminate.
I made sure that the laminator was on the slowest speed possible to ensure that everything sticks.
Step #3: Laminate the bottom pieces.  I used my personal laminator for these pieces with lamination sheets that were a bit thicker.  If you were going to use this in classroom, it might be a good idea to laminate on cardstock for more durability.
Step #4: Add the velcro pieces.
Optional: If you didn't want to use velcro, another option would be to put the pieces into a small baggie stapled to the top left.
My original idea was to use one Read and Sequence a day to help build fluency and comprehension in a quick way. However, we didn't stop at just one….she read 5 in one day and then she wanted MORE!
You start by reading the simple story.
Next, you use the interactive pieces to sequence the story and show comprehension.
She moved onto the next set…
She was feeling SO successful and reading the simple stories more fluently and accurately!
The purple set…
She really likes these stories, since they are mildly humorous.
IF you wanted to, you could color in the pictures BEFORE laminating them.
I didn't do that for these, but this worked completely fine for us.
We still use them as originally intended…read, color, cut and paste.
The file folders just allow for quick and easy fluency practice!
The green set…
What I really LOVE about this resource, is that it requires her to reread the story and make sure that she is sequencing the events.  PERFECT for self checking in the area of comprehension!!
 The yellow set…
When she puts the pieces back, I have her mix them up so that they are out of order for the next time.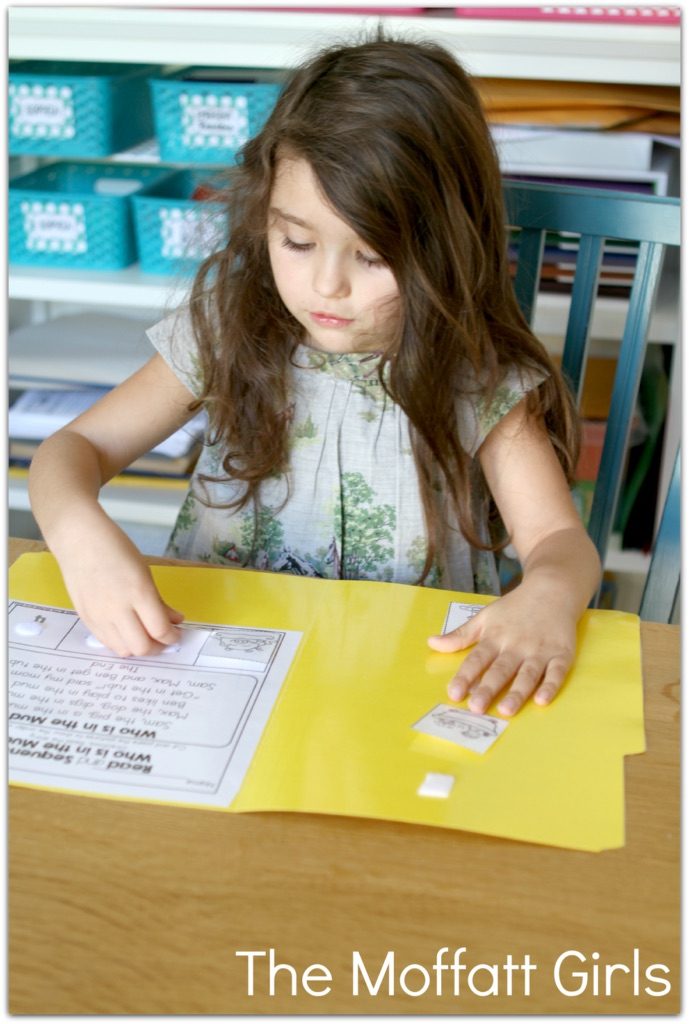 EASY….FUN….highly EFFECTIVE!
You can also see them in action
here
:
The file folders just allow us to practice them again and again to help build fluency.
What you see below, allows for coloring, cutting and pasting.
Here are a few other sets that we will be turning into file folder games:
Again, you can turn any interactive printable into a file folder game!
How fun and easy is that?