There are so many fun, hands-on ways to teach numbers 1-5 in Preschool!  I'm so excited to share the Preschool Math Made Fun Curriculum with you!  While preschool is not a requirement, I believe that setting a strong foundation for future learning is crucial.  I also believe that the more enjoyable we make learning in the younger years, the more positive a child's experience will be throughout all schooling. Therefore, I've packed Unit 1 with plenty of fun, hands-on activities to do just that.
Here are the 7 Units that will be included in the Preschool Math Made Fun Curriculum
Unit 2: Numbers 6-10
Unit 3: Classify and Sort (Including Color Words and Positional Words)
Unit 4: Comparing Numbers 1-10
Unit 5: Patterns
Unit 6: Shapes
Unit 7: Measurement
SAVE $$$ with the Bundle! 
All 7 Units included!
Get ready to make MATH FUN! Hands-on Centers and Practice pages that will get young kids EXCITED about math!
How are the Units Covered?
Each unit will offer two components to help make the math units meaningful and engaging for whole group, small group or individual lessons.  This curriculum gives the teacher flexibility and freedom to rearrange the units to fit the needs of his/her students. Since there are so many practice pages and centers in each unit, the teacher can use many of the pages and centers as a spiral review as the year progresses. The more challenging activities would be best suited for this type of approach.
How to Teach the Units
Although preschool is optional, it is important to make sure that young students are fully prepared before they enter Kindergarten.  Therefore, I have included a list of preschool standards that are covered in this unit.  The Preschool Math Standards Sheet outlines which standards are covered by each practice page and center. Therefore, you don't have to guess as to what standard is being covered. It is a relief to KNOW for sure that ALL the standards are being covered, and that students will be fully prepared for Kindergarten. This type of resource makes it easy for the teacher or homeschooler to supplement their current math curriculum or implement these units as new curriculum.
Below, you can see how each page corresponds with the grade level standards for preschool. Once you cover the specific pages for a standard with the NO PREP practice pages, you can now refer to the standards page for the centers. In contrast to a scripted word-for-word lesson plan, this math curriculum allows for flexibility, giving the teacher control of the scope and sequence.
It's EASY to use, and it's right on target to meet and master ALL grade level standards!

Component Number 1
NO PREP Practice Pages- We all know that kids need a lot of practice to help master math concepts and to help them retain the knowledge. So I've made sure that each Preschool Math Unit will have a variety of fun NO PREP practice/worksheet pages for students to practice, practice, practice! These NO PREP practice pages allow students to master math concepts through cutting and pasting, coloring, dice games and more! Best of all, you can refer back to the Preschool Math Standards page and see which standard each page covers! Furthermore, you can connect these pages to a center that covers the SAME standard!
Component Number 2
Math Centers- Each unit will have a variety of math centers or stations to help students practice and apply skills and strategies taught within the math unit. These math centers are purposeful and will help to make each math concept more concrete. Math centers or stations increase student motivation by:
*Providing meaningful learning opportunities
*Fostering independence
*Allowing for differentiation
*Best of all…they make learning math FUN!
*****NOTE: ALL math centers are also available in black and white.  You can print the centers in black and white on colored paper to save on colored ink while still keeping it fun.
A Quick Overview of the Math Centers
This comprehensive and full Preschool math curriculum ensures that students will be fully prepared for Kindergarten in a variety of ways! The units allow for critical thinking, use of manipulatives, fun and engaging practice pages, and interactive centers that are sure to keep your students wanting more math!
Let's take a look at Unit 1 in Action…
There are 31 Hands-On Centers in this Unit! It is HUGE! I'm excited to show you each center and how it works.
CENTER NUMBER 1: Number Rhymes
Say the rhyme as you trace the number with a marker or your finger. Use these posters as open-ended manipulative mats.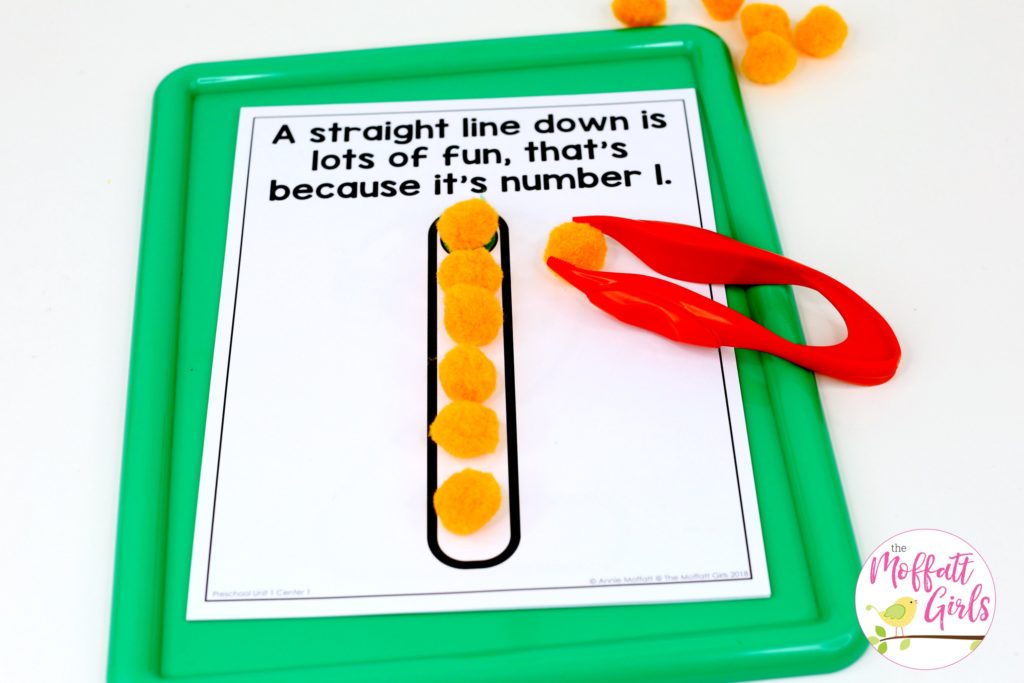 CENTER NUMBER 2: Driving on Numbers
Using a toy car, start at the green dot.  Follow the road, changing directions at the yellow dot.  Continue until you reach the red dot.
CENTER NUMBER 3: Subitizing- Say it Fast!
Flip a card.  Say the number that is represented on the card as fast as you can.
CENTER NUMBER 4: Open-Ended Manipulative Mat
Trace the number at the top using a dry-erase marker.  Use play dough or manipulative to form the number.
CENTER NUMBER 5: Roll and Cover
Roll the die.  Cover the number that matches your roll.
CENTER NUMBER 6: Ladybug Spots
Read the number at the top of the card.  Draw that number of dots on the ladybug or use any manipulative to add dots.
CENTER NUMBER 7: Counting Cookies
Roll the die.  Count out cookies to match your roll and put them in the jar.
CENTER NUMBER 8: Flip and Fill
Flip a card.  Add that number of items to the mat.
CENTER NUMBER 9: Play Dough Numbers
Use play dough to make the shape of the number, add sprinkles or ice cream scoops, and fill the 5 frame.
CENTER NUMBER 10: Count and Color
Color or cover the number of items on each mat.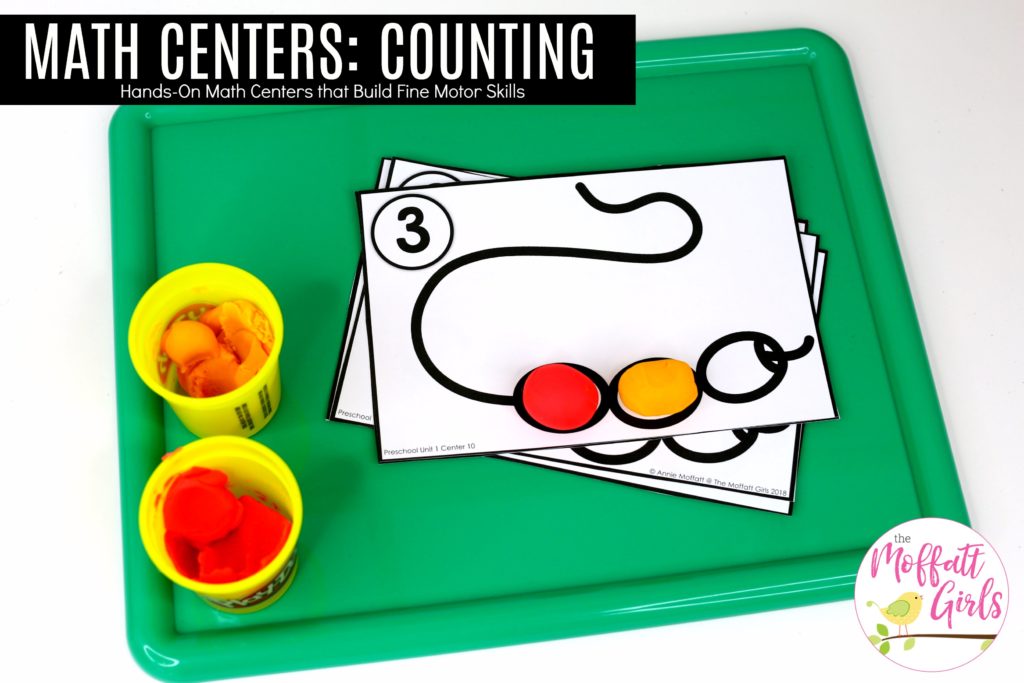 CENTER NUMBER 11: How Many?
Read the number on the mat.  Add eggs to the nest and spots to the butterfly to match the numbers.
CENTER NUMBER 12: Fill the Jar
Use manipulatives to count out the number of items needed to fill the jar.
CENTER NUMBER 13: Five Frame Cover Up
Flip a card.  Cover a number to match the number of dots on the five frame.
CENTER NUMBER 14: Five Frame Count and Trace
Flip a card.  Count the dots on the five frame.  Trace or cover a number to match.
CENTER NUMBER 15: Spin, Fill and Tally
Spin the spinner.  Fill the five frame to match your spin.  Add a tally mark to the number that was spun.  Continue until a number has five tally marks.
CENTER NUMBER 16: Find the Same 5 Frame
Use play dough to make the shape of the number and count out the number on the five frame.  Then find the two matching 5 frames.
CENTER NUMBER 17: Cookie Numbers 1-5
Flip a card. Place the card on the cookie sheet. Count the correct number of cookies to match the number.
CENTER NUMBER 18: Build a Pizza
Count the items to build a pizza.
CENTER NUMBER 19: Spin and Cover
Spin the spinner.  Cover an circle that matches your spin.
CENTER NUMBER 20: Find and Cover
Look at the number in the star.  Cover all of the circles that match that number.
CENTER NUMBER 21: Subitizing Sort
Sort each card to the strip that has the matching number.
CENTER NUMBER 22: Count and Clip
Count the objects and clip the number that matches.
CENTER NUMBER 23: Subitizing Numbers 1-3
Spin the spinner.  Cover a circle that has the matching number.
CENTER NUMBER 24: Dress Up Numbers
Spin the spinner.  Add the number of buttons or polka-dots that matches.
CENTER NUMBER 25: Number Towers- Count and Build
Count the objects in each square on your Number Tower Mat. Build a tower with snap cubes to match each number.
CENTER NUMBER 26: Counting Mats
Count the items.  Place a manipulative on each item as you count.
CENTER NUMBER 27: Gumball Counting
Color the gumballs as you count how many.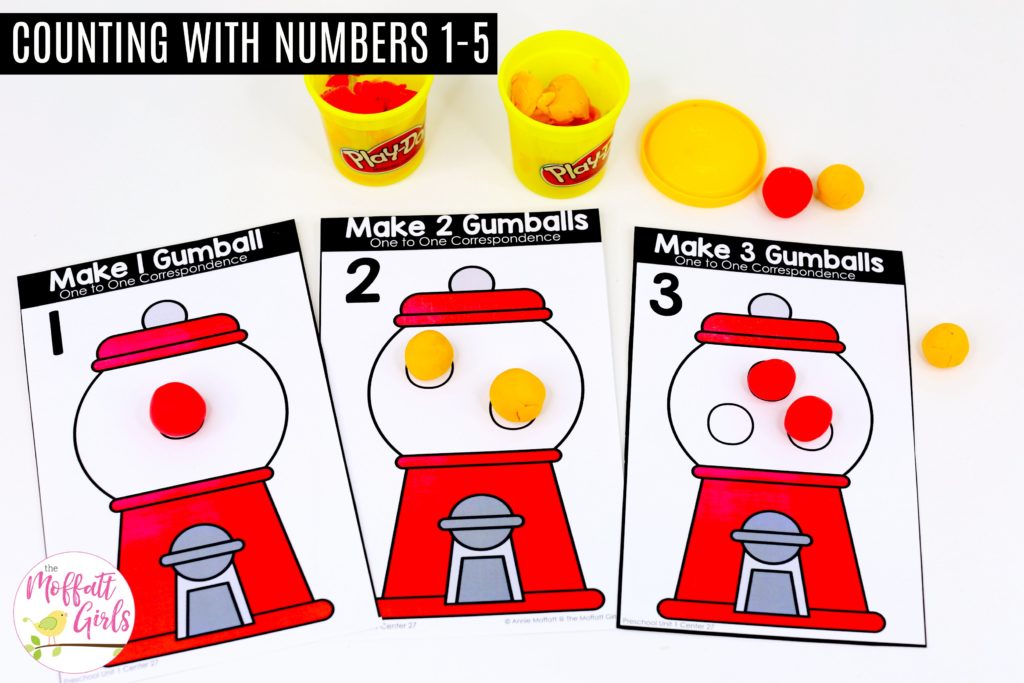 CENTER NUMBER 28: Roll and Read
Roll a die.  Read the numbers in the row that matches your roll.
CENTER NUMBER 29: Numbers- Say it Fast
Play with a partner.  One partner calls out a color.  The other partner says the number as fast as possible.
CENTER NUMBER 30: Apple Sorting
Sort the cards to the correct basket.
CENTER NUMBER 31: Missing Numbers- Number Sequence
Fill in the missing numbers on the strip.


You can purchase Unit 1 individually HERE or