October Kindergarten Morning Bins are here and part of the Kindergarten Morning Bin Bundle! Join thousands of teachers who have swapped out their pencil and paper routine with hands-on and engaging morning bins!
NOTE: Many teachers are choosing to use these as early finisher tubs or during a different part of the day. Generic labels have been included for this purpose.
KINDERGARTEN MORNING BIN BUNDLE AVAILABLE HERE
FIRST GRADE MORNING BIN BUNDLE AVAILABLE HERE
SECOND GRADE MORNING BIN BUNDLE AVAILABLE HERE
WHAT ARE THE BENEFITS OF MORNING TUBS / BINS?
The benefits of morning bins are endless!
They are hands-on and engaging
They provide meaningful practice for basic skills
Students have opportunities to work on fine motor skills
They provide group and social interaction
These offer open-ended practice
They can be used as an alternative to pencil/paper work
They provide extra practice for previously taught skills
Most importantly…they make learning FUN!
SKILLS INCLUDED IN THE MORNING BINS:
Rhyming
Segment and Blend
Identify
Sounds
Syllables and Compound Words
Sequencing
Vocabulary
Printing
Extra Practice for Tricky Skills
Patterns
Counting Sequence
Making and Counting Groups
Compare and Measure
Shapes
Sorting
Numeral Identification
Base Ten
Math Printing
Motor Skills
Social/Emotional Learning
The bundle includes monthly themed activities listed above with 21 NEW ACTIVITIES! Wake up those brains and hands with meaningful practice!
Let's take a look at each Morning Bin in action! There is no right or wrong way to use these morning bins! In fact, they can be used any time of the day! For example, you can place all 21 bins out each month and have students work on an individual bin, or you can bring one bin out each day. However, I like the idea of allowing a table group of 4-6 students to work on one bin at a time. This allows them to socialize, work as partners, and learn from one another.
To make things easy for you, each bin has simplified direction cards and a material list.
MORNING BIN #1: RHYMING
For the month of October, work to hook the rhyming pictures together.
MORNING BIN #2: SEGMENT AND BLEND
In this activity, students look at the three pictures, say the name of the picture, and identify the beginning sound. They can place a letter to match the begging sound of all three pictures.
MORNING BIN #3: IDENTIFY
For this activity, provide magnet letters or letter tiles. Then students match a lowercase (or uppercase) letter with each letter.
MORNING BIN #4: SOUNDS
Students will pull a card and cover the letter that begins with the picture on the card.
MORNING BIN #5: SYLLABLES AND COMPOUND WORDS
Say the name of the picture. Clap the syllables and sort the cards to the correct mat.
MORNING BIN #6: SEQUENCING
Students will sort upper and lowercase letters in alphabetical order.
MORNING BIN #7: VOCABULARY
Each month, students will receive a new set of vocabulary words that are relevant to that specific time of the year. Also, vocabulary words will come with a Vocabulary Chart, picture / word match up and build the word activity cards.
MORNING BIN #8: PRINTING
Students will 1. Trace letters with a finger. 2. Build letters with manipulatives. 3. Build letters with play dough. Optional: 4. Poke letters with a push pin.
MORNING BIN #9: EXTRA TRICKY PRACTICE
Each month, students will will work on a skill that is a bit tricky and needs some practice. This month, students are working on building and writing their names! This is an EDITABLE file in your download. Auto-populate the names of your students with the Name Practice page located in the extra file. Students can color, trace and write their name.
MORNING BIN #10: PATTERNS
Working with patterns is a very important skill for Kindergarten. Therefore, in this morning bin, we are working on recreating a pattern with colored popsicle sticks! Some of the patterns are a bit tricky, but only just tricky enough to give them a little challenge.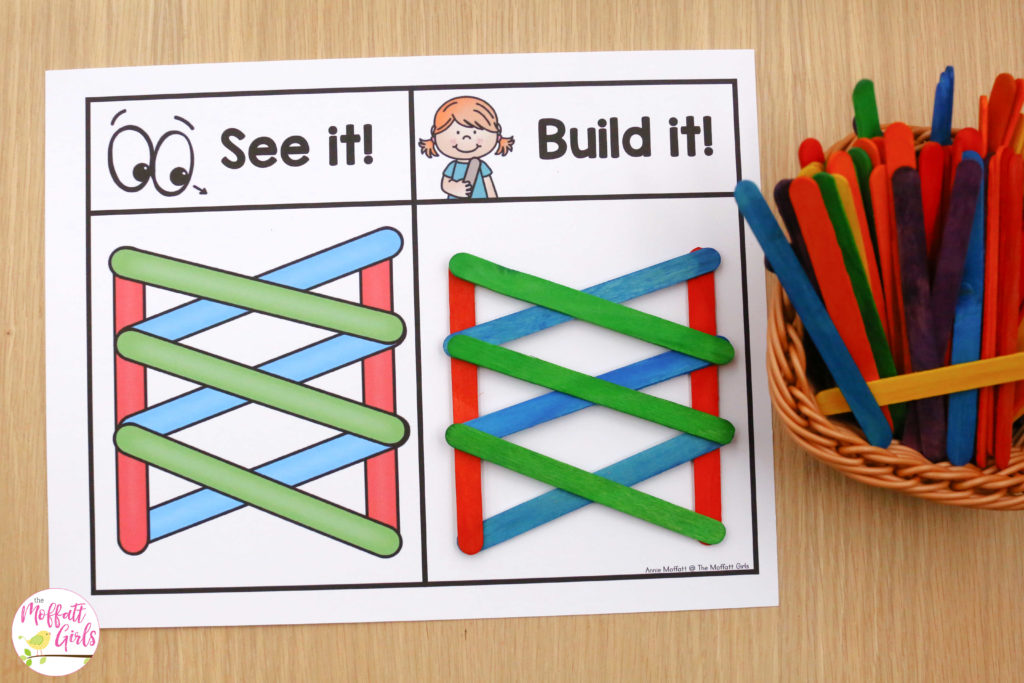 MORNING BIN #11: COUNTING SEQUENCE
Students will assemble photo puzzles 11-20. I have included a few puzzles 1-10 for those who need a bit more practice with these numbers.
MORNING BIN #12: MAKING AND COUNTING GROUPS
Students will add the correct number of seed to the mats.
MORNING BIN #13: COMPARE AND MEASURE
Students will make equal sets with playdough or manipulatives.
MORNING BIN #14: SHAPES
Students will identify, count the sides, and make the shape with a geoboard and rubber bands.
MORNING BIN #15: SORTING
Students will sort the leaves by the number of letters in each word (3, 4, 5, or 6) into the matching bag.
MORNING BIN #16: NUMERAL IDENTIFICATION
Students will poke the number with a pin, which builds both fine motor skills and numeral identification.
MORNING BIN #17: BASE 10
Show the number in a Ten Frame.
MORNING BIN #18: MATH PRINTING
Students will count the leaves and trace the numbers from 0-20.
MORNING BIN #19: ADD AND SUBTRACT
Students will add a manipulative to each empty square on the ten frame and fill in the missing number to make 10.
MORNING BIN #20: MOTOR SKILLS
Students will say the beginning sound of each picture and weave yarn or a shoelace in and out of the holes. Such a GREAT fine motor skill activity!
MORNING BIN #21: SOCIAL EMOTIONAL
Students will look at 5 pictures. They will color the face on the recording sheet that shows how they feel about each picture.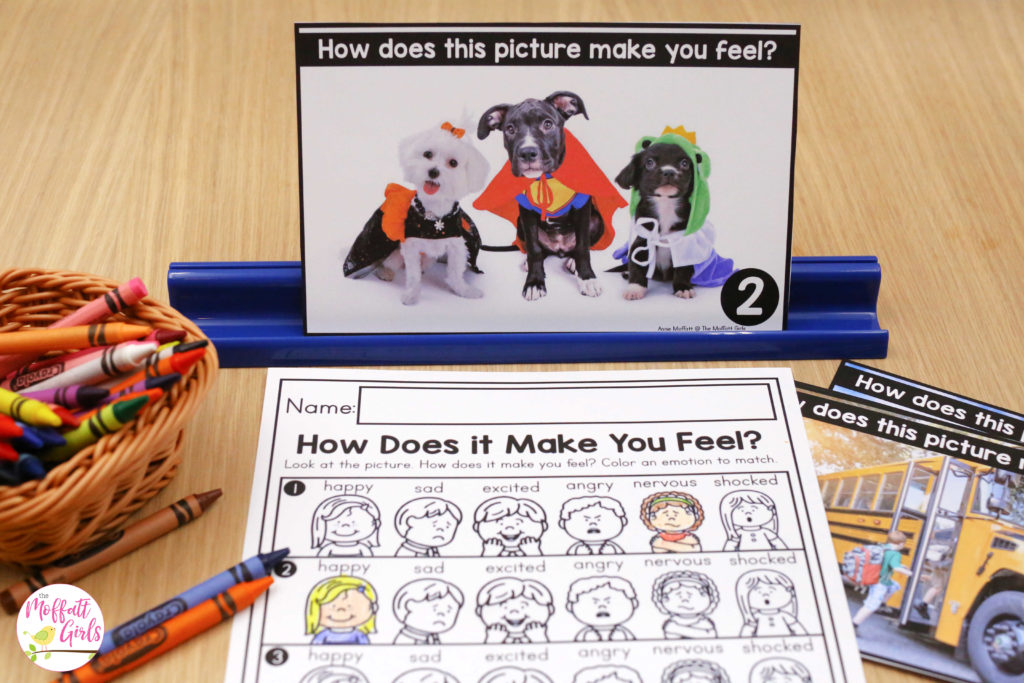 STORAGE IDEAS:
Undoubtedly, The Moffatt Girls Engage Facebook group is a GREAT place for teachers and homeschoolers to share how they are using Moffatt Girls curriculum and resources. For this reason, we would love to have you join! Here are some examples of some ideas that have been shared in the group. Another teacher, Ashley Nicole, has made her space beautiful by using Steralite Bins!
Diana also placed her morning bins in containers from the Dollar Tree.
Similarly, Carrie used heavy duty paper trays from Lakeshore.
Once you are done using the monthly set of morning bins activities, you can remove the manipulatives and place the activity cards and sheets in plastic envelopes. Here is an example:
For some fun No-Prep activities for back to school, Click Here.