The holiday season is here, and the Preschool December Morning Bins are sure to bring some cheer! This month is packed with hands-on activities to teach letters, shapes, name practice, rhyming and so much more!
Most preschools have a scattered drop-off time, so mornings can be chaotic. Therefore, it's crucial to have a consistent plan of activities for these young students to participate in as they trickle in. The Preschool Morning Bins are exactly what you need to start the day off in a positive, focused and stress-free way! These hands-on activities provide an ideal opportunity for preschool students to practice basic skills to warm up their minds and be ready for the day.
PRESCHOOL MORNING BIN BUNDLE AVAILABLE HERE
KINDERGARTEN MORNING BIN BUNDLE AVAILABLE HERE
FIRST GRADE MORNING BIN BUNDLE AVAILABLE HERE
SECOND GRADE MORNING BIN BUNDLE AVAILABLE HERE
What are Morning Tubs / Bins?
These age appropriate Preschool/ Pre-K Morning Bins are a great way to incorporate literacy, math, fine motor skills, and tons of PLAY into your morning routine! These bins are not limited to mornings, but can also be used for your early/fast finisher tubs, or just for some quiet exploration time at the end of the day!
What are the benefits of Morning Tubs / Bins?
Rhyming and Syllables
Sounds
Letters
Sequence
Letter Printing
Sort by Concept
Finding Details
EDITABLE Name Practice
Patterns
Counting Sequence
Making and Counting Groups
Shapes
Measurement
Colors
Numerals
Comparing
Life Skills
Social/Emotional
Fine Motor
Dramatic Play
Each month, you will have access to 20 NEW activities that cover the skills listed above! Certainly, these will get your kids EXCITED about morning routines! Furthermore, warm up those brains and start the day with engaging and purposeful activities!
Let's take a look at each Preschool December Morning Bin in action!
Morning Bin #1: Rhyming and Syllables
Students say the word in the middle and clip the words that rhyme with it.
Morning Bin #2: Sounds
Students will cover the words that start with the letter sound to follow a path from "Go" to "Stop!"
Morning Bin #3: Letters
Students will cover the letters from A to Z to make a path from start to finish.
Morning Bin #4: Sequence
Students will put the pictures in order of events.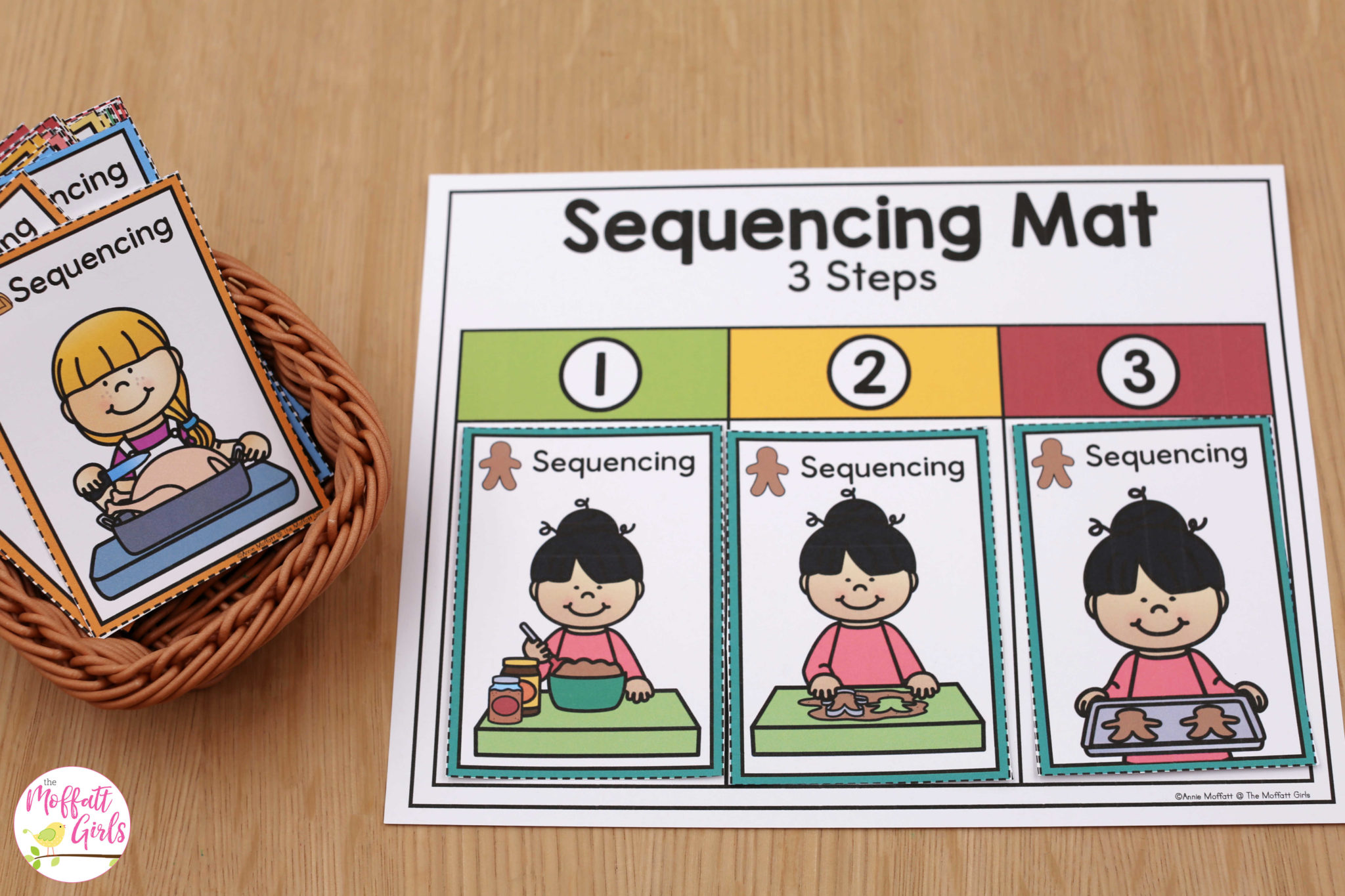 Morning Bin #5: Letter Printing
Students will trace the letters three times each.
Morning Bin #6: Sort by Concept
Students will decide if the item is for Fall or for Winter.
Morning Bin #7: Finding Details
Young minds love to find hidden objects within pictures! Furthermore, this activity promotes concentration and attention to detail as students search for the ten hidden objects and check off each one as they find it.
Morning Bin #8: EDITABLE Name Practice
This craft is a fun way for students to practice building their names! Students will write the letters of their names on chimney pieces and build the chimney. Also, an editable version of the chimney pieces has been included.
Morning Bin #9: Patterns
Students will look at the pattern and clip the item that comes next.
Morning Bin #10: Counting Sequence
Have your students count to 5 and decide which number is missing on the card.
Morning Bin #11: Making and Counting Groups
Students spin a spinner, count the items and cover a number to match.
Morning Bin #12: Shapes
Have students look at each shape and cover the shapes according to the color code.
Morning Bin #13: Measurement
In this bin, students must pay close attention to the sizes of each object and clip the smallest item on the card.
Morning Bin #14: Colors
Students will look at the color and clip the items that are usually that color.
Morning Bin #15: Numerals
Have students practice building the numeral and counting out the "marshmallows" to add to the hot cocoa mug. Add some mini marshmallows for a special treat!
Morning Bin #16: Comparing
Students will count the cookies and find the card that has the same number of cups of milk.
Morning Bin #17: Life Skills
This morning bin combines some practical life skills with fine motor practice! Students will write on, clean and hang up the clean clothes on a clothesline.
Morning Bin #18: Social/Emotional
This morning bin would be perfect after a reading of The Gingerbread Man! Students will pick an emotion card, color a face on the gingerbread to match, and tell a friend why the gingerbread feels that way.
Morning Bin #19: Fine Motor
Students will practice placing pony beads on the lines.
Morning Bin #20: Dramatic Play
Students will use their imaginations and the items to pretend that they are packing, wrapping and shipping gifts. This bin even comes with pages that students can color to make their own custom wrapping paper! You can even step it up a notch and have students create a craft for their parents and then have them wrap and "ship" the gift!
*This is an open-ended play activity. The offered materials can be set up in a variety of ways. Get creative and have fun!
I hope that you enjoy the Preschool December Morning Bins!
To see Kindergarten December Morning Bins, Click Here.
For 1st Grade December Morning Bins, Click Here.