If you have been following me for a while, you will know that I LOVE teaching young ones how to read, and the alphabet is where it all starts!  Truly one of the best experiences for a teacher is when he/she finally sees that lightbulb turn on, when the child has that "aha" moment.  On the other hand, teaching reading can be an extremely stressful process for both the teacher and the student.  Therefore, it's crucial for students to receive a strong foundation for reading based on letter sound and name recognition and phonemic/phonological awareness.  Once these skills are learned, moving on to reading words is a goal that is far more easy to achieve.
For that reason, I want to introduce you to the Alphabet Curriculum.  It is a complete 7-week program that goes from letter recognition and formation to letter sounds to simple CVC words.  It is packed with hands-on activities to keep young minds engaged as they learn, practice and master the alphabet.
What's Included?
⭐ Lesson plans
⭐ Assessments (Pre-Assessments, Mid-Assessments, Post Assessments). Students will be grouped by score for targeted centers and small group instruction.
⭐Scope and Sequence
⭐ Whole group lessons
⭐ Differentiated small group lessons
⭐ Hands-on centers
⭐ Extra practice for additional support
⭐ Sample Schedules for 90 minutes, 70 minutes and 40 minute blocks
What order are the letters taught?
The lessons are organized in the following layout:
Week 1- Letters m, p, t, a

Week 2- n, b, s, i

Week 3- h, d, g, o

Week 4- r, f, c, e

Week 5- l, k, j, u

Week 6- z, w, y

Week 7- v, x, q
Although the lessons are organized in this way, you can always choose to introduce and teach the letters in a different order.  You can also teach them at a different pace.  If you feel that you students need more time, you can stretch the lessons over 14 weeks or more.
*Note: The order of the letters and lessons have recently been changed sequence shown above in order to coincide with the new Pathway to Fluency science of reading aligned curriculum.  The pictures in this blog post have not yet been updated to reflect that change.
Why do you teach the letters in this order?
This is a frequent question posed by teachers, and for a good reason: it is important to teach the alphabet in with a systematic approach.  Keep in mind that there is no "correct" order to teach the alphabet. Furthermore, you don't necessarily have to teach it from A – Z. However, by using the order listed above, you are able to make words quickly. For example, by the end of week 1, students will be able to move on from letters to simple CVC words. In week one alone, students will be able to use their letter sound recognition to make and read the words: pat, bat, tab, and tap. What a confidence booster! 
Are you ready to change the way you teach the Alphabet? No more boring and monotonous letter activities. This Alphabet Curriculum provides explicit instruction in a variety of ways with context and structure! This packet provides students with hands-on and engaging activities!
Let's Take a Look at SOME of the activities in Week 1 of the Alphabet Curriculum:
Lesson Plans: Included in the curriculum are easy-to-follow daily lesson plans to help guide your teaching for whole group and small groups. They are complete with sample schedules, center activities and rotations, teacher table small groups activities for your low, standard (mid) and extension (high) groups and so much more!
Weekly Letter Activity Centers/Rotations: The weekly activities for center rotations include hands-on activities for letter identification, letter formation, letter sounds and letter review and application.  Here are just a few of the activities in action.
Letter Identification Activities
Letter Sorting…
Magazine Letter Hunt…
Upper and Lowercase Spin and Cover…
Upper and Lowercase Letter Match…
Letter Formation Activities
Play Dough Mats…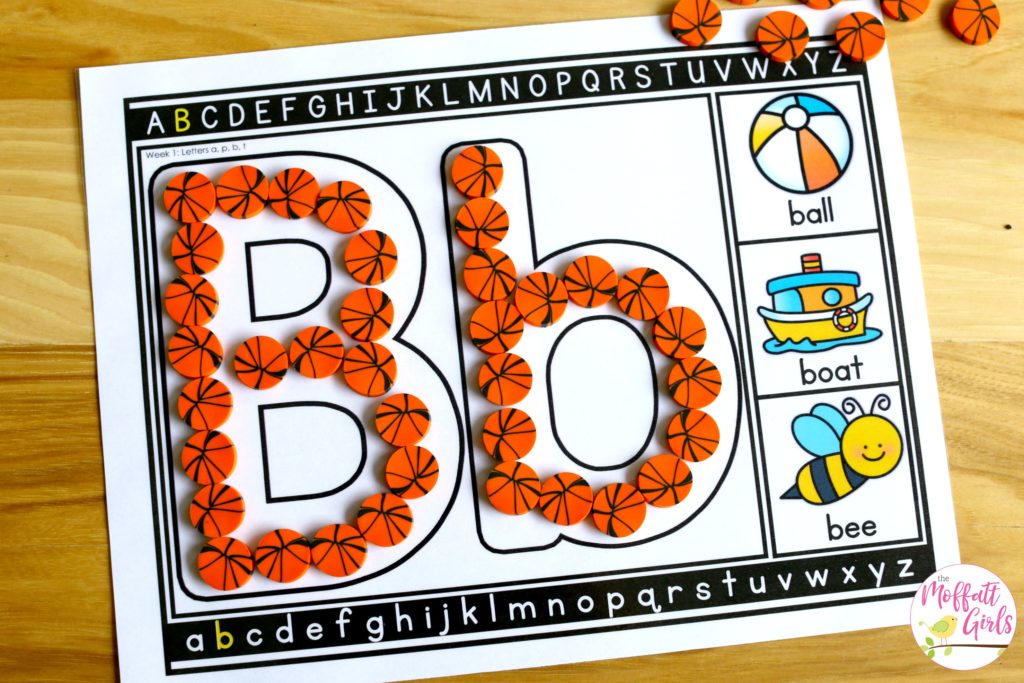 Open-ended Letter Formation…
Shape Building…
Roll and Trace/Write a Letter…




Beginning Sound Activities
Beginning Sound Cover up…
Beginning Sound Spin and Cover…

Beginning Sounds Letters…
Teacher Table Activities
These activities are broken down into low, medium and high groups in the lesson plans. You will want to prepare Alphabet Toolkits for each student at the table. You only need one set that will be used with each group of students. For example, if you have 5 students at a time at the "Teacher Table", you will need to prepare 5 sets. These 5 sets will be used for all three groups. Listed below are the resources that you will include in each Toolkit.
The lesson plans clearly indicate which activities should be used in each group.
The Beginning Sounds Poster comes in a full size and mini size…
What supplies do I need?
Here are a list of items that you might find helpful when building your Alphabet Curriculum toolkit:
Magnet letters
Binder rings
Popsicle sticks
Jumbo foam dice
Game spinners
Pattern blocks
Snap cubes
Most of these items can be found on my Amazon Influencer Page: Click Here.
Things to keep in mind:
1. Be patient.
Too often, we expect a child to learn how to read on "our schedule."  If we don't allow the student the time needed for their brains to produce the anticipated information, we impede the learning process.  If a child is not saying the letter sound or word, count to 10 silently in your head.  You may find that all they needed was a little bit more time to come up with the information.  Furthermore, this 7-week curriculum can easily be expanded over 14 weeks or more to accommodate struggling students.
2. Be sure to emphasize the difference between letter sounds vs. letter names.
Too much focus on letter names can confuse a child when it comes to sounding out a word.  For example, for the word cat, the student may refer to the letters by their name instead of the sounds that the letters make, saying c-a-t instead of /c//a//t/.
3. Practice, practice, practice!
Even after a student has shown that he or she can identify a letter or word, continue to have them practice it in many different ways.  In the Alphabet Curriculum, I've included a variety of practice activities to ensure that students have ample opportunity to truly master the skills.
4. Frequent mix-ups and difficulties:
Letters b, d, p and q- These letters are frequently confused when learning how to read.  These letters, and some others, may require more practice than the rest of the alphabet.
Speech delays- It is important to remember that speech is also continuing to develop at these young ages.  If a child consistently gets a letter wrong, check to make sure that they can first make the sound of the letter before asking them to identify it.
Dyslexia, vision and other contributing factors- Keep in mind that there are multiple factors that contribute to a child's reading success.
What next?
Once a child has mastered the alphabet, you can move on to building fluency reading CVC Words and basic Sight Words. Here are a few Bundles to consider:
CVC Endless Mega Bundle:  This is a bundle of CVC resources that will continue to grow. This bundle provides engaging hands-on resources for extra practice. Many students need a lot of practice when it comes to beginning phonics.
CVC Fluency Bundle: This bundle of resources includes 12 packets that take students from sounding out CVC words to reading simple passages.
Sight Word Fluency Pyramid Sentences: This bundle helps students build fluency with sight words along with phonics skills starting with pre-primer sight words and CVC words.