Color mixing is so much fun and the Moffatt Girls can't get enough of it!  I let Audrey pick different food coloring colors to mix and see what new color she could make.  She knew she wanted to make purple and she remembered that blue + red = purple.  Sophia was in charge of stirring…
After we mixed the colors, we made them into colored ice cubes.  This was a great way for Sophia to play around with the melting colors.  They both concluded that all the colors together make a brownish/black.  This is such a simple activity, yet so much can be learned through exploring and playing.   Play is a VERY important job for preschoolers and toddlers!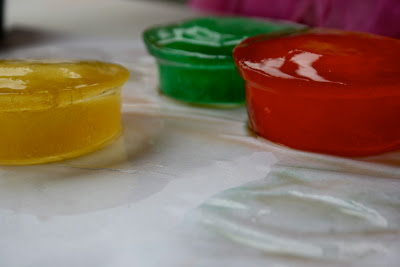 The girls used the ice cubes as crayons to color on white paper…
This simple activity engages children to so many different learning experiences.  The girls probably spent a good 25-35 minutes mixing colors and playing with the ice cubes.  They interacted with one another, talked about their experiences and without even realizing it, learned so much!
Save