Kids are always excited about Christmas.  I remember teaching in the classroom and it seemed that the students just couldn't focus the whole month of December.  The excitement of Christmas was too much for them to handle:)  This year we are so excited about our Christmas learning!!  There is a ton of learning going on at The Moffatt Girls house and we are really enjoying it!
Today we started off with our Christmas Shopping center from our
10 Christmas Math Centers Pack
.  Audrey really enjoyed this center and I was pleasantly surprised at how quickly she caught on to counting money.  We have been working on coins here and there, but this Christmas activity was a great motivator that helped nail the concept!
 I picked up a ton of different Christmas trays and jars from the dollar store.  We put our shopping times and money cards in the tray.  This just adds a bit more excitement to the learning process:)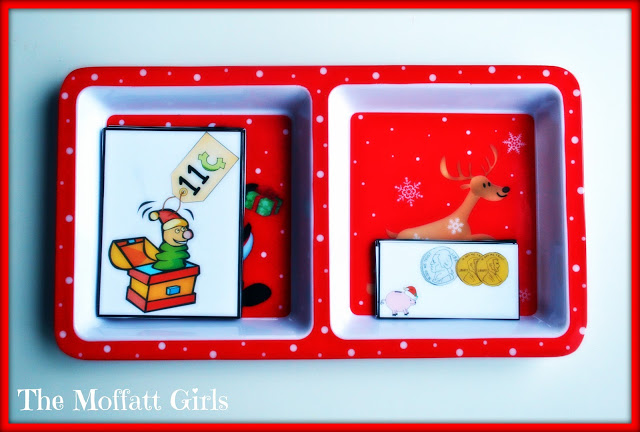 We started out by putting all of our shopping items into our Christmas pocket chart.  Then we matched up the amount of coins to the price tags on each toy.  This was so much FUN!
After working with the hands-on money cards, I let Audrey do the independent activity to assess how much she really learned.  She did very well!  I think hands-on activities really help children grasp the concept that much more…especially for the kinesthetic and visual learners:)
We also unwrapped another book from our 24 Christmas book collection.  As you can tell, it was a VERY exciting book:)  Sophia (my 3 year old) is slightly obsessed with Rudolph the Red Nosed Reindeer:)  It also makes me happy to see Audrey reading to her.
Here is a sample from our
Christmas Color by Sight Word Sentences
(The Bundle Pack).  This is always FUN for the girls:)  What kid doesn't love to color?  The Bonus:  These coloring pages reinforce and teach sight words AND kids can read a sight word sentence!
We also did this ADORABLE Happy Birthday Jesus craft. The girls LOVED it! Even Sophia (3 years old) was able to do this activity independently:)
Be sure to check out al the Christmas Learning days:
To purchase our Christmas Math Centers, click the button below!