I have really enjoyed helping Ruby learn how to read these past three weeks.  The growth that I have seen since week 1 until now has been AMAZING!  If you would like to see the progress of her journey, follow the links:
Week 1
Week 2
Here are the activities for week 3:
Sight Words (high frequency words): We always start with reviewing our sight words and adding our new words.  At the end of three weeks, she has mastered 18 sight words: look, see, funny, big, come, is, little, down, my, jump, run, blue, can, make, and yellow. (here, help, and, and for the next book)
Why did I pick these 15 sight words?  My short term (3 week) goal is to have Ruby read the Dick and Jane book, We Look
.  These are all the sight words needed for this book.  I have made a list of the sight words needed to read the Dick and Jane series here.
Sight Words: We continue to sing our sight words to the tune of BINGO and review our letter sounds.
Phonics: I made this CVC word game, which the girls really enjoyed!
They worked on the space rhymes file folder game…
Sight Words: I had the girls use the dot stamps to stamp their sight words…
Then they traced over the dots…
Sight Words:  They read Book 6: Kittens
They took a well deserved break:)
Phonics: They worked with these Melissa and Doug see and spell
Sight Words: Had a little more practice with sight word printables.
 Then I had the girls write each word they made after twisting the plastic egg.
They thought it would be a good idea to use their snack (popcorn) to make their last sight word.
The GRAND FINALE!  Ruby's 3 week goal was to be able to read her first Dick and Jane book,
Audrey read her Dick and Jane book, Something Funny
.
How I kept the little tot busy…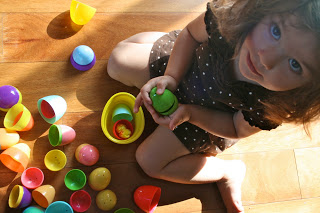 Easter eggs and little chicks!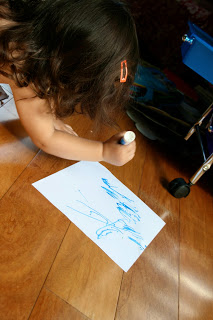 Coloring