I really love February and The Moffatt Girls are enjoying some fun learning!  We started our 14 Valentine Math Centers and Audrey is SO happy!  I LOVE it when kids get excited about learning?  Why should boring dittos get in the way of a happy learning experience?
On the list for today was our Sweet Treat Graphing.  I actually had Audrey use some heart counters from the dollar store to mark off each of the items as she counted and recorded them.  This helped her make sure that she didn't double count something.  She said this was her favorite thing is school today:)
We also did our ValenTIME by the hour!  So fun for Audrey:)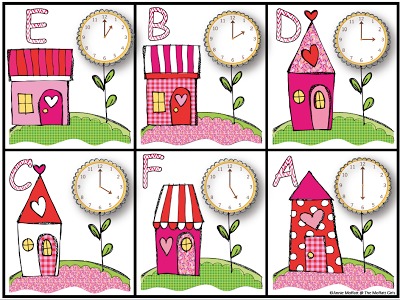 I had a super sweet email from a mom who is using our Valentine Math Centers with her daughter and this is how she displayed them!  She decorated each activity with a heart and put the activity cards in a little box holder!  How cute is this Valentine bulletin board?
Next we moved on to our
Daily Journal Prompts for February
.  I can't even begin to tell you how excited Audrey is about writing since we started doing the journal prompts last month!  She loves to write and wants to fill up all the pages.  I am amazed at how much her writing has blossomed with such a simple tool!  The best part about it is that I can keep all of her writing in one place and treasure it for years to come!
The first thing she does is draws a picture based on her prompt.  Early writer often focus on the picture first and then the writing.  This is good for them because it allows them to take more ownership of their writing and become excited about the content of their writing.  After they create their drawing, they can now express it in words.  Here is a sample from our February Journal Prompts…
Prompt:  What will the groundhog do when he sees his shadow?
Response: I think the groundhog will see his shadow and he will pop back into the hole as fast as he can!  Groundhogs are cute.  I like groundhogs.
I didn't really correct her errors, I just wanted her to express her thoughts and enjoy writing!  I adore her little groundhog!!
I also made some secret Valentine messages for the girls with white paper and a white crayons.  Just write the message with a white crayon and use watercolors to reveal the message.  The girls LOVED it!
As for the littlest Moffatt Girl, she has been into puzzles lately.  And for the record, she works best in pink tutus and with hair in her face 😉
Check out these fun Valentine products in our shops!