Every rich literacy program includes poetry, but how do you implement poetry into your classroom or homeschool setting? Well, I have created a bundle of poems and activities that will make this very easy and FUN! Each season includes 25 poems along with fun activities that will enhance vocabulary, reading comprehension, handwriting skills, sequencing, making connections, and more! Furthermore, the templates that are included allow for differentiation, giving you the opportunity keep lessons simple or extend the lessons to include more challenging concepts, such as poem memorization. This post showcases the Fall Poetry Packet.
Make Teaching Poetry Fun in K-2
Why is it important for kids to memorize poems?
Poetry is powerful. Memorizing poems is not simply busy work. Rather, the practice and discipline of memorizing poetry can help students in a variety of ways.
What are the Benefits of Memorizing Poetry?
•Increases vocabulary and reading comprehension
•Exposes students to patterns in language
•Increases brain capacity and focus
•Increases articulation and presentation skills
•Encourages students to become more analytical by reflection on the emotions and feeling provoke by poetry
•Creates a sense of pride and accomplishment
•The above benefits transfer over to writing styles and abilities
Let's take a look at how to use these Poems
There are a total of 25 Fall Poems included in the Fall Poetry Packet. Therefore, you have plenty of poems to choose from to make sure you have what works best for your students. Simply put, you don't necessarily need to use all 25 poems.
I've placed the Fall Poems into a binder to keep them neat and organized. Spiral bound notebooks are also a great option so students have all the poems in one place.
Each poem includes 8 activities that you can choose to use based on students' needs and level.
The poetry packets will work with K-2 students. However, not all activities will be age appropriate for each grade level. You will need to pick that activities that work best for your students.
Let's take a look at one poem in particular from the Fall Poetry Packet: Pumpkin Patch.
Vocabulary Building Cards
Each poem has a set of vocabulary cards carefully chosen to help enrich the poem and bring deeper understanding. You can use magnetic letters or a dry erase marker with the vocabulary cards.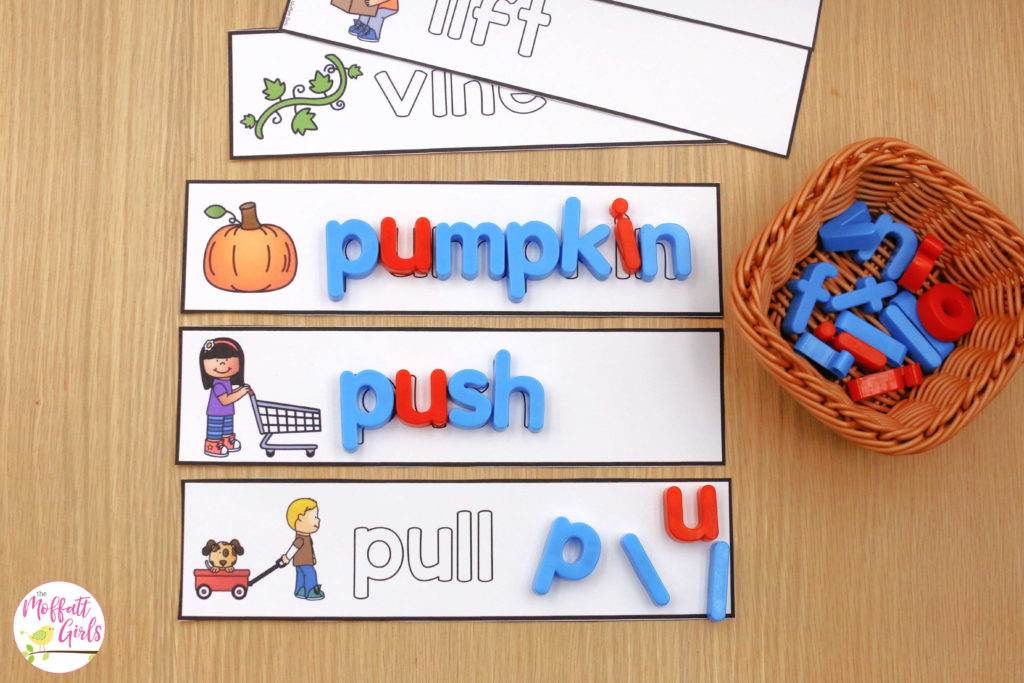 Pocket Chart Cards
Use the pocket chart cards to sequence the poem and memorize the poem. Start by reading the lines of the poem a couple of times. Each day flip over a line or two to help students recall the poem by memory. Keep them displayed or place the cards in a center.
Poem Comprehension Checks
Each poem comes with a comprehension check page where students read the poem and then answer the questions.
Visualize It Activity
On this page, students will have an opportunity to draw a picture of the poem the way that they see it in their minds. The Visualize It activity opens the door for students to see how their view of the poem may be different from their classmates' views.
Fill It In
For this activity, students will use their word bank to help them fill in missing parts of the poem. Therefore, this is another step in the process of memorizing the poem.
Sequencing the Poem
Students will cut out the lines of the poem and paste them in the correct order.
Handwriting Practice
Students will use this page to copy the poem in their best handwriting.
I hope that you and your students enjoy the Fall Poetry Packet! Stay tuned for the Winter Poems!
SAVE BIG with the BUNDLE 100 Poems!
Are you looking for Poetry Writing activities? Click Here to see the Kindergarten Poetry Writing Unit in action!