Writing is an area that we are ready to place more focus on, starting this January!  Although we have done a bit of writing here and there, I am super excited about our Daily Journal Prompts for January!  These Daily Journal Prompts are a great way to give students an opportunity to write in a daily response journal or even a more guided and structured setting.
These daily Journal Prompts for January are designed to work for K-2 students and can be used to meet many Common Core Standards for writing!  I love these journal prompts because that students can really create ownership of their own writing and feel successful.  The Daily Journal Prompts can be used as:
*A Daily Response Journal
*More structured and guided journal writing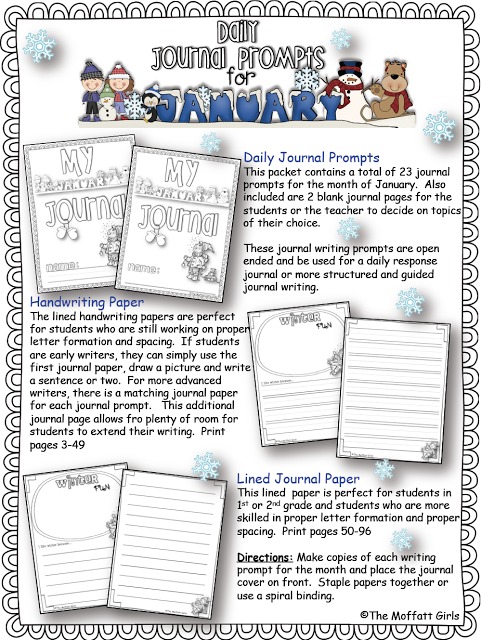 If you have beginning writers who are still working on proper letter formation and spacing, the handwriting pages are perfect!  This packet also include lined pages for students who more skilled with letter formation and spacing.
I had our journal pages spiral bound and now Audrey is super excited about having her "own" January Journal book.  It only cost a couple of dollars to have it done and so well worth it.  We will be starting our Daily Journal Prompts in January!
Click the buttons below to purchase this fun product!