We are using our new NO PREP Journal Prompts for Beginning and/or Struggling Writeres and LOVING them!  It can be a challenge to get kids to write, but these journal prompts make it EASY!    Each journal prompt has a traceable starter sentence, an illustrated word bank and a place to draw a picture to support the text.
Sentence Starters included in this packet:
*A Valentine…
*On Valentine's Day…
*On Groundhog Day…
*Abraham Lincoln…
*Bowing…
*Bubbles…
*Today I feel…
*An astronaut…
*At the park…
*My five senses…
*Lemonade…
*During math…
*Polly (put the kettle on)…
*Goldilocks (and the three bears)…
*Jack and Jill…
*On the playground…
*On my birthday…
*Humpty Dumpty…
*In the story (the three little pigs)…
*In the desert…
Also included:
*Journal Cover
*Sight Word List (pre-primer words)
*Additional lined paper
*prompts without sentences starters for more advanced writers
I always start with letting them color the cover because it creates ownership and excitement about the journal…
As you can see, this little Moffatt Girl takes her coloring very seriously!
 We started by tracing the starter sentence and then began writing the rest of the first sentence.  She wanted to write more, but was struggling with proper letter formation on the lines.  I decided to pull out my mini-whiteboard so we could practice writing the sentence and seeing what it "should" look like.
HUGE SUCCESS!
She wrote the sentence on the mini whiteboard and then copied it onto her journal page!
This simple task allowed her to practice writing the sentence twice. I actually wrote the first two words for her so she could "see" what good penmanship looked like.  I encouraged her to finish the prompt by sounding out words and using her word bank.  By working together on her writing, she was able to complete the task with confidence.
She referred back to her mini whiteboard several time to make sure she was writing the letters correctly.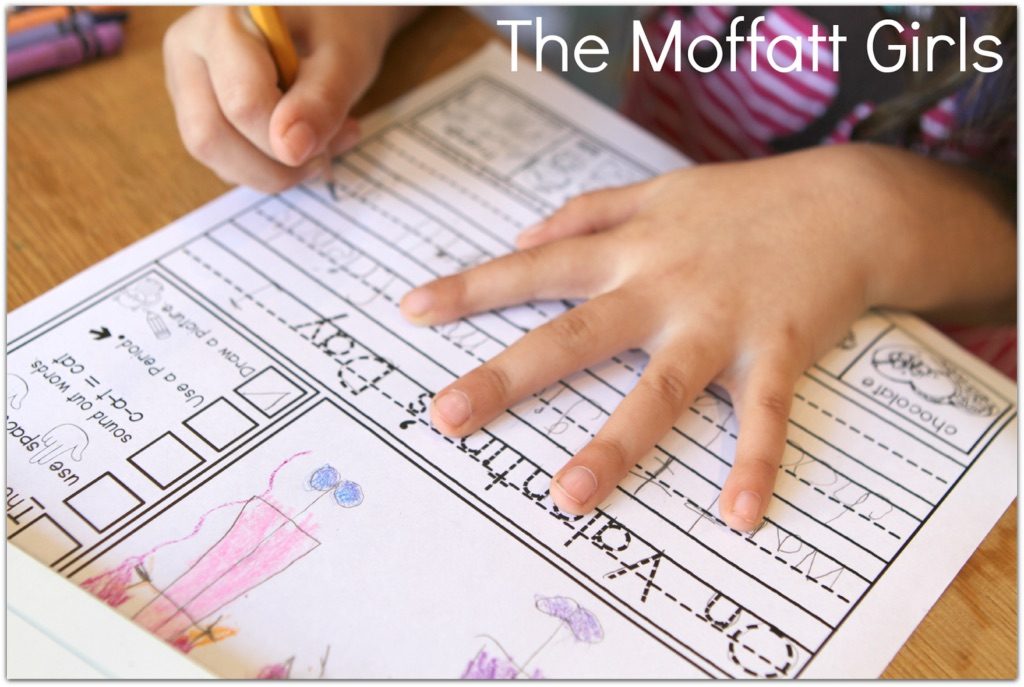 In last months journal prompts we were only writing one sentence, but now we have moved up to two sentences! With each journal prompt, her writing is getting better and better!
One of the "I Can…" Statements says that she can use finger spacing between words.
I figure I will tell her later that she doesn't need to do that for the period 🙂
Together, we went through the I Can statements.
I Can….
-use a capital letter (check)
-use spaces between words (check)
-sound out words (check)…she sounded out giv (give)
-use a period (check) She used two periods.
-draw a picture (to support the text)
In case you can't tell, that is a picture of her and me.
She is giving her Mommy some chocolates and a balloon.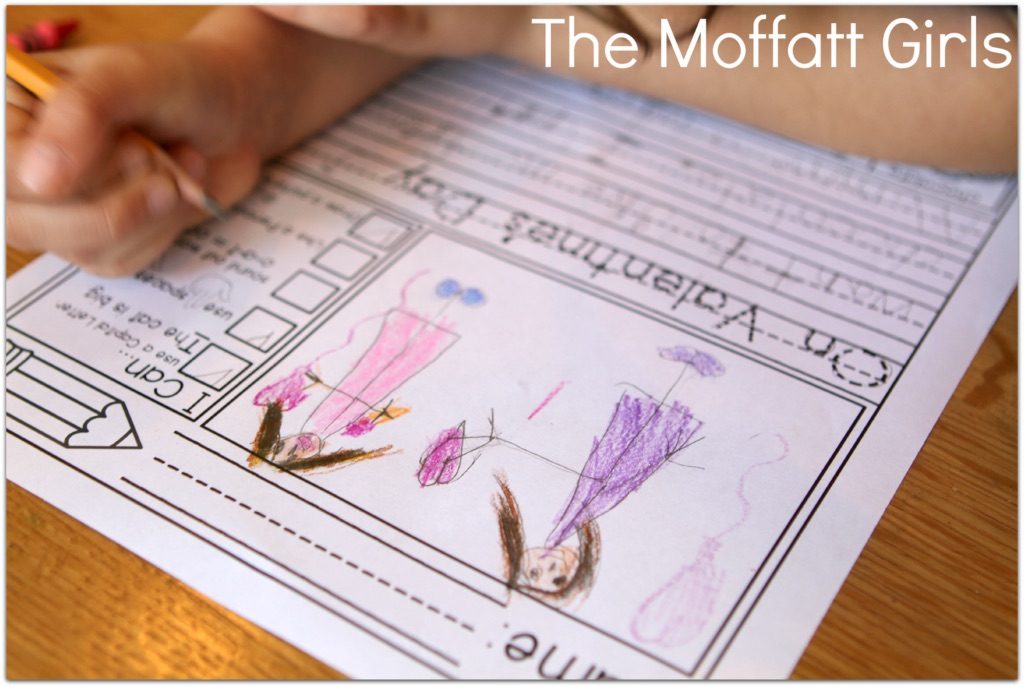 She reread her writing by pointing to each word as she read it.
Oops! We forgot our name!
SUCCESS!
I would say that this little Moffatt Girl was SUPER proud of her writing.
On Valentine's Day I want to give my friends chocolate.
I will give my Mommy a balloon.
You can get these February NO PREP Journal Prompts for Beginning Writers (
HERE
)
I am SO excited to let you know that these monthly journal prompts will also be available in
SPANISH!