For some reason I forgot to finish uploading my Sight Word Money for 1st Grade and the Bundle.  Someone kindly reminded me that these items are not in my shop.  I think I am losing my brain.  Please tell me that that happens to you too?
Anyhow, we totally LOVE our sight word money!  This is such a FUN way to have kids earn some sight word bucks after they learn a new sight word.  They also get to put their sight word money in their Super Sight Word Kid Wallet!  The back of the wallet lets them check off their sight words as they earn their sight word dollars.  Now that is a FUN way to meet Common Core Standards!  Learning to read should be FUN!
Sight Word Money (The Bundle)
Pre-Primer, Primer, and 1st Grade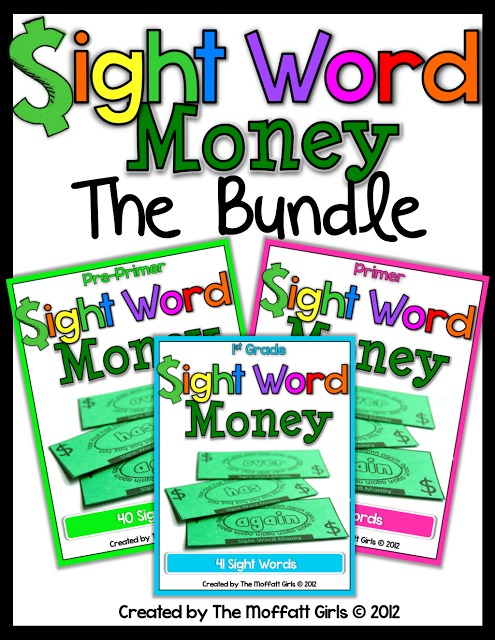 When printed on green construction paper, kids feel like it is real money;)
The bundle includes money for the following sight words:
Pre-Primer– a, and, away, big, blue, can, come, down, find, for, funny, go, help, here, I, in, is, it, jump, little, look, make, me, my, not, one, play, red, run, said, see, the, tree, to two, up, we, where, yellow, and you.
Primer- all, am, are, at, ate, be, black, brown, but, came, did, do, eat, four, get, good, have, he, into, like, must, new, no, now, on, our, out, please, pretty, ran, ride, saw, say, she, so, soon, that, there, they, this too, under, want, was, well, went, what, white, who, will, with, and us.
1st Grade– after, again, an, any, ask, as, by, could, every, fly, from, give, going, had, has, her, him, his, how, just, know, let, live, may, of, old, once, open, over, put round, some, stop, take, thank, them, then, think, walk, were, and when.
To find this product, check out our shop below…
This product is also available in the following: